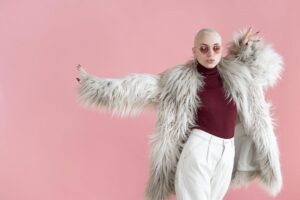 If you're all about being a fashionista, consider how you can rock the latest trends with confidence. Some options may not be the style that you initially go for, but they could end up being the perfect option for unique occasions. Here are a few tips to help you show up as the beautiful woman you are, whatever the fashion trend may be:
Go bold, contrary to you
If you're someone who wears neutral colors and more casual, preppy styles like women's loafers and button downs, you may feel a bit scared about using bold colors that are showing up in the latest trends. But you may be amazed at how wearing bold colors can actually go a long way toward helping you feel bold and confident as well.
Large earrings and bold patterns shouldn't be ruled out when you're hoping to show up with plenty of flair. That extra umph of color or pattern helps you feel like you're "showing up."
Choose what resonates with you
The good news is that there are so many different trends coming up in 2023 that you don't have to just wear what other people are choosing. Find the trends that suit you. For example, you may have a friend who is all about those bold, dangling earrings, but you prefer a more coastal grandma look.
While getting outside of your normal attire could enhance your confidence, wearing what feels good on you can also do the same. If you're wearing something that doesn't feel good to you, it's going to show.
Work with a personal stylist
If you have a challenging time putting outfits together on your own but you want to feel as confident as possible, a personal stylist is always a good idea. They can help you put the best outfits together for the office, like slacks and a blazer, or help you get set up for date night confidence with a fashionable dress.
There are various options where you can work with a local personal stylist, or you could sign up for a clothing subscription that essentially sets you up with personal styling services. If you have a public-facing style of job, consider working with an image consultant who can help you up your game and show up in your profession in a way that is appropriate.
Follow fashion social media accounts
If you want to know how to best use the latest trends, consider following social media accounts created for fashion posts. The more exposure you get to the latest fashion styles, you'll start to develop an eye for and taste for them. This can help you learn how to dress in line with the latest trends. You could also use fashion apps that give you an idea of how certain looks can look together. If all else fails, go old-school with fashion magazines.
Look for the colors that suit you
There is a little trick to being a fashionista that shows up confidently. Take time to get to know the colors that suit you the best. You may be a queen in pink, but green doesn't pair well with your hair color. Look for the clothes you love in colors that help you have that "je ne sais quoi" that will have people turning their heads at you.
You can wear this color in something as small as a pair of earrings or wear a maxi dress in that color. While some people feel like neutrals are classier, the reality is that many classy trends are showing up in bolder colors.
In Conclusion
As you shop for the latest trends, think of outfits that will leave you feeling as confident as possible. Whether that is something out of your comfort zone or it's the color you know suits you well, wear what makes you feel like a million dollars.