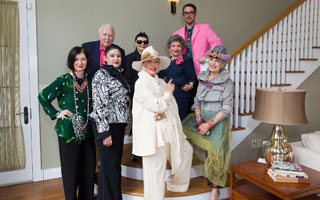 They say we get better with age. Apparently, so does style such as Streetwear.  Ari Seth Cohen, renowned fashion blogger and photographer, celebrates stylish seniors in a society that has been buried knee-deep in young twenty-somethings and their fit figures. Personal style now takes on a new look with Cohen and his mature muses, who recently visited The Club at Briarcliff Manor.
Even growing up, Cohen was fascinated by older women. He found great friendship in his grandma, Bluma, who spent days bonding with her beloved grandson. Cohen recalls shuffling through her dresser drawers to find vintage jewels and old photographs that transported him to glamorous days, swelling with elegance and grace. He admired the fact that during this era, dressing up was the "done thing". Cohen's fascination soon bled onto paper with his first art project – sketching out chic, colorful women who dazzled, not because of the jewelry they were draped in, but because of their confidence.
Cohen moved to New York in later years, where he viewed life-sized models of his early sketches in action, plainly strolling the streets. These striking fashionistas inspired Cohen to start a new blog, called Advanced Style, showcasing the sheer beauty and spirit of an oft-overlooked group between ages 60 to 100, in honor of his adored grandmother.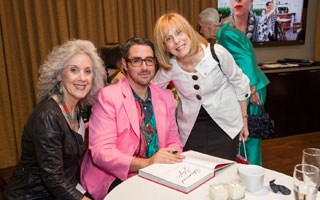 In his recent book by the same name, Cohen said, "The soul of Advanced Style is not bound to age, or even to style, but rather to the celebration of life. The fashion these women display is merely a reflection of the care and thought they put into every aspect of their lives."
Scouring the streets of New York, Cohen finds women exquisitely dressed in a style he appreciates. Some have become regular icons and good friends, such as Lynn Dell and Debra Rapoport.
Dell, also known as the Countess of Glamour, has owned the Off Broadway Boutique on the Upper East Side of Manhattan for over 40 years. With that, she travels the world in search of unique pieces and finds to share with faithful customers. Dell touches all aspects of the fashion industry, also being a designer of one-of-a-kind pieces, as well as a TV host and producer of cable TV's Positively Lynn.
"Dressing should be exciting," she said. "Women of a certain age can pull off just about anything, as long as they're wearing a smile."
Rapoport agreed, adding that "frugality is fun." As a visual artist, she wears many of her own creations – some of which are for sale on the Advanced Style blog. Rapoport finds importance in not just style, but in maintaining a healthy life as well. She helps others do the same through her lessons at [Community Supported Agriculture] or CSAs, where she performs cooking demos to educate the public about preparing healthy, organic foods. Rapoport also is currently demonstrating how to make a variety of accessories from recycled materials in a series of salon sessions at the Museum of Art and Design at Columbus Circle.
To her, the distinction between fashion and personal style is vast. She explained, "Personal style is defined by creation of expression, unlike fashion, which is categorized by consumerism and fads."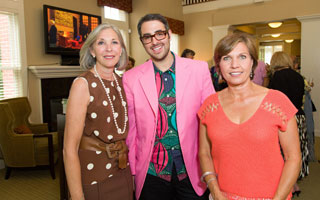 Both women joined Cohen, and many other stylish superstars featured in the book, at The Club at Briarcliff Manor, a premier senior living community, which is currently under development. Intending to establish a community beforehand, The Club has hosted numerous events that speak to future residents. This one in particular was aimed at a female crowd, celebrating women at any age. Through this and many other offered programs, The Club hopes to send out a message: Age shouldn't stop you from having fun and living life to the fullest. Life goes on and gets better with age.
Dell's Off Broadway Boutique set up a small booth in one of the houses, which was flocked by chic ladies hungry to see its merchandise. Cohen enthusiastically mingled and signed books in the main house up until attendees were treated to a preview of the Advanced Style documentary, directed by videographer Lina Plioplyte which showcased the charming ladies of glamour.
In the witty words of one of them, "You can break the rules once in a while. I'm not ready for a convent or anything, so I can wear leopard glasses!"