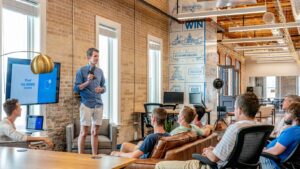 It's not uncommon for businesses to reach a point where their growth appears to have stopped. At this point, however, there is an increased risk that the popularity of your business will diminish with your company fading into obscurity. It's important to start fighting this stagnation as soon as it starts to set in so that you can once again start to see growth and increased profits. To help you, we've put together some useful ideas as to how small business owners can achieve this.
Set New Goals
One of the ways in which stagnation occurs can simply be because a business has stopped reaching for tough goals. After years of slogging through hard work and crunch times to achieve success, breaking through into a world where you no longer need to fight hard to become a recognised brand can be euphoric. It can almost feel as though your entire business has breathed a collective sigh of relief. However, the pressure to meet the tough deadlines and goals you'd set yourselves was likely driving a big portion of your success and innovation, and when you stop setting these goals and piling on a bit of pressure, you might notice that you and your team begin to get complacent. Instead, start setting your sights on the next chapter of your success with some brand new, tough goals such as partnering with more retailers to sell your products. You may use the tips on this page https://www.tradebeyond.com/articles/how-to-get-your-product-in-stores to help you achieve this goal. Set a goal to be more organized and to use your company data more effectively. With the right software solution, your business can make more effective use of and organize better, incoming data, old data, and actionable. Organizing the business assets and managing everything from supply chain to human resources management, the right software solution will help you tie everything together from all departments and give you actionable insights. This makes for more effective planning and management allowing you more effective strategies and planning ahead. You may be interested in NetSuite as an all-in-one solution to resource, business, and customer management.
Evolve The Business
In some cases, a business has simply run its course. This might not be the sort of thing anyone would want to hear, but relatively few businesses last for more than a decade. Society is constantly changing along with our needs and wants, and something that might have been a great business idea ten years ago isn't necessarily going to remain popular today. One way in which you can evolve your current business is to convert it into a franchise. You can find a myriad of different franchises to buy via Franchise Local, and these industries range from fast food to finance. Buying into a franchise will allow you to adopt the working business model and brand of a respected and proven franchisor, and because you've already got assets ready from your current business, adapting your company to suit this new business model will be much easier than if starting from scratch. Before you enter any new partnerships or sign new deals, you may consider consulting with a business transaction law expert beforehand.
Reignite Your Team's Passion
If you've identified that you're able to make things work, however, one of the next steps you need to take is to revive the drive and ambition of your team, as well as yourself. The chances are you haven't gotten to the place you are now with sheer luck. Hard work and skill have brought you the current success you have, and it can take you further. There are many ways that you can try to rebuild the passion and creativity of your team, as well as bolster their morale and ambition. This will help you all push forward to rediscover that winning mentality. Remember that one of the most important things you can do as a leader is to support your team. Providing them with guidance and recognising their hard work will promote a healthier, positive work environment, leading to increased levels of productivity and dedication to your business. To help you find qualified employees, get in touch with a Utah County staffing company.