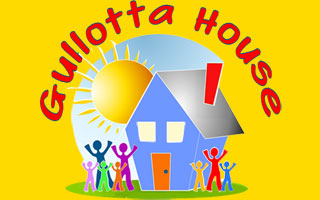 Gullotta House Inc. is a non-profit 501(c) (3) corporation formed for the charitable purpose of aiding residents of Westchester County who are facing financial or other hardships. Gullotta House provides food vouchers, scholarship aid for education, holiday assistance and community entertainment.
Since its inception 4 months ago, Gullotta House Inc. has been involved in over 6 community events, including the Tarrytown Street Fair, the Ossining Street Fair, Ossining Community Fireworks show, and the Hawaiian Kick-off Luau Fundraiser. A special thank you to Mr. Mike Dempsey, past president of RHO PHI Tau Kappa Epsilon in Cortland, for being creative enough to help raise donations from TKE Alumni and our first 50 friends and supporter campaign. 
Upcoming events are the Tarrytown Family Fun & Music Fest on Sunday, September 20 from noon to 7 pm. On October 16 the 1st Annual Charity Masquerade Gala will be held from 8-11:30 pm.
By visiting www.gullottahouse.org and clicking the Donate Now  button you will have the opportunity to donate to the Cabrera fund.  Mr. Cabrera, a Sleepy Hollow resident, was 43 years old when he accidentally drowned this past summer in the Hudson River. A fund has been established for his daughter, a 14-year-old Sleepy Hollow student.  At Gullotahouse.org a listing of all upcoming events is available as well.
We ask that you consider becoming a friend of or a supporter of Gullotta House Inc. and we thank you in advance.