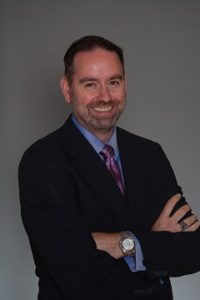 Feeding Westchester has announced that Matthew L. Honeycutt has been named Vice President, Development. Honeycutt, who has more than 20 years of fundraising experience, was most recently the Director of Institutional Advancement at Whitby School in Greenwich, CT, a Pre-k through 8th grade Montessori and IB school with 350 students from over 20 countries.
In his new role, Honeycutt will oversee the day-to-day fundraising activities of the development department. As a key member of the senior leadership team, he will work closely with the Board of Directors to maximize fund/resource development opportunities by cultivating new prospects and managing existing donors. Honeycutt will report directly to Leslie Gordon, President and CEO of Feeding Westchester.
"Matt comes to us with a wealth of experience in fundraising. He has created meaningful public-private partnerships for arts, academia and health and human service organizations and has a track record of success. We are thrilled to welcome him to Feeding Westchester," said Gordon.
A Ridgefield resident, Honeycutt joined Whitby School in 2016. Previously, he was the director of philanthropy and the center for social impact and innovation at the Wooster School. Earlier, he was with the Saddle River Day School and the National MS Society, Mid-Atlantic Chapter, in Charlotte, North Carolina. Matt holds a B.A. in English and Creative Writing and an M.A. in English Literature from Winthrop University in South Carolina.
For 30 years, Feeding Westchester, formerly known as Food Bank for Westchester, has been the heart of a network of more than 300 partners that provide food directly to the 200,000 county residents who are struggling with hunger. The county's leading nonprofit hunger-relief organization sources and distributes 95 percent of nutritious food, and other resources, to towns throughout Westchester through soup kitchens, shelters and daycare and residential programs, delivering over 8.4 million pounds of food and 7.5 million meals to people. Westchester's collaboration with major retailers and corporations, and its expertise in food procurement, storage, and distribution, turns every monetary donation into fresh food provided for our community. $1 = 4 meals.