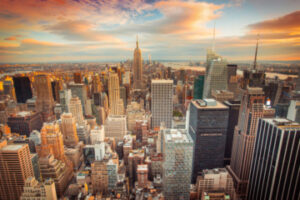 NYC is often seen as a mecca of entrepreneurial opportunity. However, any entrepreneur attempting to launch a business in New York has to deal with higher tax rates as well as some stiff competition. That being said, the thriving metropolis also provides you with access to a huge potential customer base in addition to other benefits like accelerator programs and angel investors. As Alicia Keys said, if you can make it here, you can make it anywhere. Let's take a look.
The Idea
Firstly, you need to develop the idea. Why will your business fill a gap in the market? Think about your expertise and what you can contribute. After you have produced the initial idea, you then need to refine it. This often means conducting research. You need to determine whether there is a demand and who it is coming from. You should also work out who your competitors will be and how you can differentiate yourself from them.
The Business Plan
Next, you need to write a business plan. A great business plan will become integral to your efforts to register your business and secure funding. During this stage, you should also determine which legal entity your business will need to take. This could be a sole proprietorship, partnership, LLC or corporation. The liability will differ, as will the taxation requirements depending on your choice.
Funding
After you have written your business plan and formed your business as a legal entity, it is time to consider your options regarding funding. Every business needs money in order to get going. Some people are lucky enough to be able to finance their business themselves until it is able to turn a profit. However, this is rare; instead, you are likely going to need to secure funding. This could be through angel investors or from another bank, or even the U.S. small business administration.
Legal Compliance
The legal aspects follow. To begin with, this means registering your business with the state of New York. The steps will vary depending on the legal entity of your business, so be sure to take this into account. You then will need to request your federal and state tax identification numbers, and this process is unique to each state too. Insuring your business is also vital; not only is it a legal requirement it also protects your business. There are a number of providers out there, like The Hartford, which have individual policies depending on the business, like insurance for catering businesses, restaurants or salons.
Once you have your tax numbers, you can then open a line of credit or a bank account for your business. This is imperative in ensuring that your business's taxes are more straightforward. You will then need to enquire whether your business requires any licenses or permits to operate legally in the state of New York. There are general business licenses, but depending on the business, it is likely to make sense to apply for specific and relevant licenses.
The Bottom Line
Regardless of what business you are starting, your location will always matter, and NYC is a great place for entrepreneurs. Starting a business is tricky; however, in a city like New York, you do benefit from a number of schemes and programs designed to help small business owners to thrive.