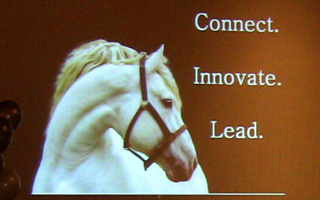 Nancy Seaman, the Chairman of Houlihan Lawrence, hosted well over 600 Real Estate agents at an afternoon of educational workshops which saw keynote presentations from her brothers, President and CEO Stephen Meyers, along with COO Chris Meyers. The event was held on Tuesday, June 14 at the Tarrytown Marriott Hotel whose Grand Ballroom was the only venue large enough to accommodate the agents in attendance.
A Top 10 list provided insight into the successful workings of Houlihan Lawrence. In descending order, Chris Meyers listed the reasons for the tremendous success the Agency has experienced even during the recent downturn period of the industry. The history, heritage and the values that Houlihan Lawrence stands for were cited, along with the importance of family ownership and the local approach to focusing on Westchester, Putnam and Dutchess Counties. State-of-the-art marketing has enabled Houlihan Lawrence to know what people want and how to reach those people.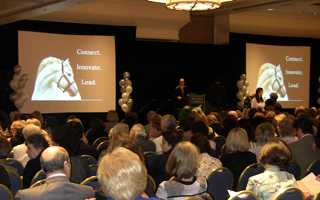 A digital presence in today's market is a necessity and the regular updates on Houlihan Lawrence's web site (www.HoulihanLawrence.com) provide a user friendly experience replete with high traffic and social media opportunities. In addition, over 21,000 people have signed up to receive the Agency's weekly newsletter. As for market share, Houlihan has greater sales than its next six competitors combined. At the top of its list are the Houlihan agents which have been cited as the most powerful sales network in the Hudson Valley. This is substantiated by the fact that Houlihan dominates the rankings of top agents by production. These same agents are seen as pillars in their local communities and are woven into the fabric of these very communities.
To complete the afternoon, Houlihan personnel had their choices of seven workshops that cycled every forty minutes.
At the end of the day cocktails and networking rounded out what was considered by all in attendance to be a first rate experience and opportunity. They expected no less from Houlihan Lawrence.