You've been there, you've done that. You've tried the overpriced speakeasies in Brooklyn, artisanal cocktail lounges in Manhattan, trendy wine bars and even hotel bars. Now what?  Sometimes a neighborhood bar is the perfect remedy for anyone looking for a change of scenery.    
Beekman Ale House in Sleepy Hollow is a refreshing place. Not because of fancy cocktails or a toney experience the other establishments offer. In fact, it's just the opposite. Its lure is simple, delicious thin crust pizza, hard to find beer, and great service.  
That's Beekman Ale Houses business model in a nutshell, according to co-owner Patrick Sheeran. "We offer a few things done very well," Sheeran said. His younger brother, and co-owner Luke Sheeran concurred and mentioned their specialty, a variety of thin-crusted 12-inch bar pies. The spot has been wowing Sleepy Hollow locals and visitors for just over two years.  
Sports fans rejoice. Beekman Ale House has several large televisions airing multiple sports events at any given time.  
The Sheeran brothers, originally from Connecticut, know bars quite well. They grew up working in the food and beverage business and managed their father's bar, Dave's Tavern in Times Square. After their father passed away in 2020, the Sheeran brothers closed Dave's Tavern and found the Sleepy Hollow space, formerly known as The Huddle.    
Besides the potential the space offered, the Beekman Avenue location offered a unique Main Street charm that reminded the Sheerans of their hometown in Fairfield, Conn.  
Their plans to open a bar-restaurant were scrapped when Covid forced New York State to shut down indoor dining. "We came up with the idea of pizza because honestly we didn't think we'd be able to serve food indoors, but we knew we'd be able to make pizza and deliver it," Patrick Sheeran said.   A family recipe for thin crust pizza came into play and the rest is history.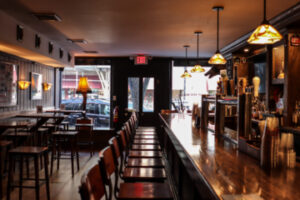 Family seems to be a reoccurring theme in this business. Besides Patrick and Luke Sheeran overseeing the day-to-day of the establishment, their mother, Kate Ryan, works the day shift and curates the wine list. She also makes their tiramisu, which has a solid reputation.  
The Sheeran brothers' passion and know-how drives their brand but there seems to be a fair amount of luck on their side.  
In December 2022, Dave Portnoy of Bar Stool Sports reviewed Beekman Ale House on his popular One Bite pizza review show. The positive review bought in new business.  
More good news came when the website Yelp awarded Beekman Ale House a 92nd in the 2023 Top 100 Pizza Spots in the United States and Canada.  
Luke Sheeran credits Yelp's best pizza spot award and One Bite's favorable review to the uptick in business. "A lot of people never heard of us before the reviews and now they wander in from nearby towns," Sheeran said.  
The average customer of Beekman Ale House varies. According to Patrick Sheeran, it's a little bit of everyone. Young adults, families, older folks and locals from Sleepy Hollow and Tarrytown frequent the spot.  
In addition to the hard work it takes to run a bar, the Sheeran brothers do a great job of getting to know their customers. "On Friday at 5 p.m. we know everyone that's sitting at the bar," Patrick Sheeran said.  
Sleepy Hollow resident Max Hofmann was enjoying date night with girlfriend Nicole Shapiro. The duo visits the Beekman Ale House on a weekly basis. Hofmann gravitated towards the craft beer selection at first. "Besides the neighborhood vibe, they have the best selection of beer here," Hofmann said.  
Eventually he brought his girlfriend, and it didn't take long before they were hooked. "Everything on the menu is good. Pizza and wings, you just can't go wrong," Shapiro said.  
The couple suggested the hot honey bar pie or the white cheese pizza. "That's our go-to these days," Hofmann said.  
Beekman Ale House
92 Beekman Ave., Sleepy Hollow
beekmanalehouse.com