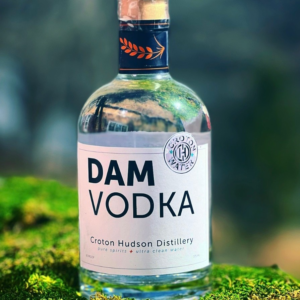 By Marc Ferris
For years, David McCallen served as a consultant to distilleries around the country. Now, he concocts his own hooch a stone's throw from the Croton-Harmon train station.
For industry types, McCallen's name is one letter away from the fabled Macallen Scotch whiskey brand. "I was writing a business plan and someone said, 'That's a great name to sell spirits. I replied, 'Well, for now I'm doing vodka and gin, but whiskey is a whole other world I'm trying to get into.' "
For their Dam brand vodka and dry gin, sold under the Croton Hudson Distillery label, McCallen and co-founder Nancy Loving preach about the quality of the local water and their premium vegan and organic product.
Some Crotonites might be surprised to learn that the local water is unique to their Village. Sourced from an aquifer beneath the Croton River, the system is distinct from the reservoir that feeds parts of Westchester County and New York City. Water processing plants that serve the entire Village cluster along Pump House Road off Route 129.
"Croton is known for water, especially in New York, and think about it, that's 60 percent of what's in a bottle of booze," said McCallen, who lives in town. "We tested it in a lab and there's very good minerality and alkaline levels."
The company will roll out a gin aged in oak, along with two sourced whiskey products, as they hone their skill creating brown spirits. For now, calling the space a distillery is generous. There are no silver tanks yet, but they plan to expand upstairs and start making "juice" on the premises.
The partners scoured New York to find winter wheat for the neutral vodka base, but nothing met their standards. They ended up importing 194-proof organic distillate from Italy.
At a large metal table in the basement space, the concentrate is cut with water, a process that replicates those employed by major name-brand distillers, said McCallen, albeit on a miniscule scale.
Few consumers understand that spirit producers are able to add anything to their product and disclose nothing. Many international brands use coloring, extra sugar and thickening agents. Only the designations "straight" and "bottled-in-bond," typically attributed to bourbon and rye, ensure an additive-free product.
"Consumers have no idea what goes into the mass-market distilling processes – gelatin, egg whites, whatever – because there is no label," said McCallen. "When we go into vegan restaurants and ask about their vegan spirits, they shrug their shoulders."
Their prime customer demographic is between 21 and 40 years old, "Young foodies who want to know everything about the ingredients on their plates, yet have no idea what's in their cocktail," said Loving. "These big brands are industrial products, so there's a strong disconnect between what's going on with the food and what's happening behind the bar."
Dam spirits can be found in almost every restaurant and retail outlet in Croton and the surrounding area, sometimes displayed in a prominent spot. Van Wyck Liquors, located within shouting distance of the brand's headquarters, offers a special gift bag.
As Croton Hudson Distillery scales up and releases more product, a significant portion of their efforts will inevitably center on educating people about what lies inside the bottle. McCallen geeks out over the area's significant history delivering water downstream.
"The Croton aqueduct, an engineering marvel, is the lifeblood of New York City," he said. "The dam is the third largest hand-hewn stone structure in the world after the pyramids and the Great Wall of China, so this is an opportunity to expose something really special."
Marc Ferris is author of the book Star-Spangled Banner: The Unlikely Story of America's National Anthem, and a presenter of music programs, including Star-Spangled Mystery and Songs the Veterans Knew.