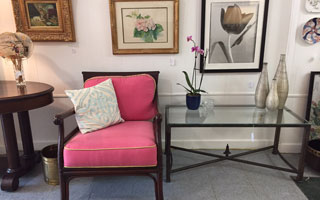 When Beth Feldman opened the doors of Home Again Consignments in Dobbs Ferry six months ago she brought with her a wealth of experience in corporate marketing and retail sales, having started her career with the GAP while she was in college. After college she worked with Levis, Mervin Department Stores, Banana Republic and Ann Taylor. "Most of what I learned about retail sales was at Mervin. Then at the GAP it was a great experience because I got to move up and be responsible for marketing efforts," she said.
A resident of Dobbs Ferry, she felt it was a great opportunity to open a business in the Rivertowns. "I've always loved eclectic furniture pieces and my own home reflects new, used and recycled furniture. It's important to incorporate and reuse as many pieces of classic furniture as possible for many reasons. One is that we are not filling landfills with these pieces and the other is that this
furniture has 'great bones' and staying power," she added.
Having always loved antique shops and flea markets, it was a logical step to open Home Again Consignments. "We ask people to take photos of items they are looking to consign and send them to info@homeagaindf.com. That's how we start the conversation and if something works for the shop, we proceed. Everything in Home Again has a story," she noted.
Located at 121 Main Street in Dobbs Ferry, NY, Beth Feldman can be reached at 914-693-8900. Home Again Consignments can also be found at www.homeagaindf.com on the Web.