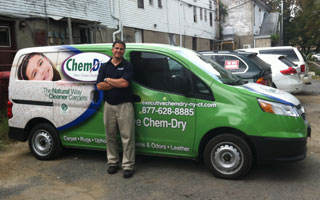 Frank Cardillo, a lifelong resident of Westchester County, recently started a new business. Executive ChemDry will provide Chem-Dry services throughout Westchester and Fairfield counties.
According to sites like carpet cleaning indianapolis, Chem-Dry is a revolutionary carpet cleaning process that uses carbonation and ingredients copied from Mother Nature to make carpets clean and fresh again. The process produces millions of tiny effervescent bubbles which penetrate the carpet fiber, dissolving dirt and stains rapidly. The CO2  bubbles also act as propellants that actually lift dirt to the surface for extraction. Chem-Dry also offers cleaning that drys in 1-2 hours and does not take days.
The mildness of the Chem-Dry solution is safe for children and pets. Carpets are left spotless without stiffness. A special introductory offer is available. Clean 3 rooms (up to 350 sq. ft.) for $129. Simply call (877) 628-8885 or (914) 424-5784. Mention this article and receive a free bottle of Chem-Dry's "World Famous Professional Strength Spot Remover." Chem-Dry is synonymous with superior carpet and upholstery cleaning.