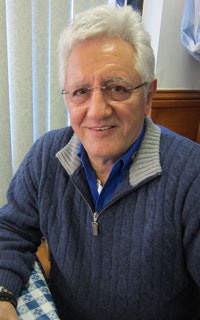 To the patrons who stand on Broadway at the corner of Main Street in Tarrytown and do so spring, summer, fall and winter, Lefteris Gyro is well worth the wait.  Since 1995 when Chris Grammatas purchased the restaurant from its previous owner, Lefteris Gyro has been a study in success.
"I had always been in the restaurant business and had owned and sold several of them on Long Island and Putnam County, before buying Lefteris Gyro," Grammatas said during a recent interview at the full-to-capacity restaurant. However, patrons weren't always so plentiful. "For the first couple of years things were tight financially and people were not inclined to come back. They had remembered how the restaurant was before I took over. It took awhile for people to realize that my food was better prepared and my prices very reasonable," he added.
As the years progressed so did menu choices on the Lefteris Gyro menu. "I was behind the griddle and I greeted everyone who came into the restaurant. I saw the restaurant as my house and the people as my guests and thanked them when they left. I remember one fellow yelling out to me that he wasn't coming back unless I raised my prices. We went from offering one soup which was Lemon Chicken (Avgolemono) to five others, Lentil, Split Pea, Vegetable, Mushroom Barley and Lobster Bisque which we served Friday, Saturday and Sunday."
With the years came the patrons, and not only for the soups, but for a staple which was the Lefteris Gyro. A combination of ground beef and lamb, the 40-pound Gyro is slow-cooked with a furnace behind the rotating meat. As the outer side cooks it is cut off in thin slices. "We sell [meat from] 35-40 whole Gyros every week, and just as popular is our chicken Souvlaki which is charcoal-broiled with salt, pepper, lemon, oil and tarragon."
Of note is that after more than one hundred tries Chris Grammatas perfected his dressing for the very popular Greek salad the restaurant serves. It took me quite a long time but I am proud of the dressing and we offer it for sale in both the 8 and 16-ounce bottles. To date we have sold between 100,000 to 110,000 cases of dressing."  The dressing complements another staple at the Restaurant — the Greek salad with green leaf lettuce, cucumbers, pepperoncini, calamata olives and stuffed grape leaves.
If you "can't keep a good man down," then that holds true for his restaurants. After the Tarrytown location began to flourish, he opened Lefteris Gyro II in Mount Kisco. Within the past several years Lefteris Gyro Plus also opened at the Ridge Hill Shopping Center in Yonkers. It has a full bar and ample seating both indoors and outdoors as well. "We can accommodate large groups of people at our Yonkers location for special parties including Birthdays," he said.
When asked if he had plans to open a fourth Lefteris Gyro, Chris Grammatas smiled. "If I was 10 years younger I would have started a chain. For now I will work at the restaurants for as long as I have the strength. I love the Tarrytown location and have spent a lot of time and work here. I thank all my customers old and new for their support. I love the fact that children I once served now come into the restaurant with their children. I thank God for that and for everything I have been blessed with." u
For further information call Lefteris Gyro in Tarrytown at (914) 524-9687. For Lefteris Gyro in Mount Kisco call (914) 242-8965. Lefteris Gyro Plus at the Ridge Hill Shopping Center in Yonkers can be reached by calling (914) 437-8490. Or visit www.lefterisgyro.com