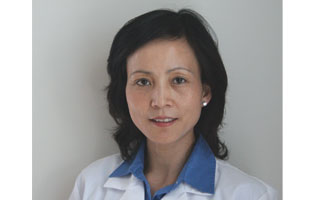 Having practiced in Briarcliff Manor for 10 years as a friendly, caring, and extremely professional doctor, Dr. Mei Zhang is a Board-Certified Dentist,  who graduated with honors from New York University College of Dentistry. Dr. Zhang attained her Doctorate of Dental Surgery (DDS) diploma in 2000. She also completed her residency training at the Westchester Medical Center. Dr. Zhang worked as a postdoctoral fellow at the Robert Wood Johnson Hospital in UMDNJ (1995-1997) after she attained her MD degree from China.
Above: Dr. Mei Zhang of Harbor Dental
Dr. Zhang practices comprehensive dental care with an emphasis on cosmetic dentistry, which is her passion. Because she is dedicated to expanding her knowledge of dentistry, Dr. Zhang is certified for Invisalign I and Invisalign II.  Dr. Zhang successfully finished continuing education training in orthodontics and dental implants. This training included two years in Progressive Orthodontic Seminars (2006-2008) and two years in "Implantology: Surgical and Prosthetic Treatment" (2009-2011).
After practicing in Briarcliff Manor for 10 years, Dr. Zhang has recently moved into a newly renovated office in Sleepy Hollow. At Harbor Dental, Dr. Zhang and her staff are fully equipped to serve patients safely and effectively with state-of-the-art technology; it is a practice that provides solutions to all dental needs: general, cosmetic, and specialty dentistry in one convenient location. Staff members provide a family-oriented, warm, and welcoming environment in which patients' comfort and quality dental care come first.
Dr. Zhang and her family reside in Westchester County. She is a proud mother of two sons and is happily married to her husband, Dr. Bobby Wang, who is a reputable general dentist with a private practice in Manhattan.
Gentle and thorough, Dr. Zhang says, "It is a major part of my life to improve people's lifestyles with excellent dental care. I like to see all my patients leave the office with a smiling face." She highly recommends looking for a Dentist Narre Warren who has been certified by A.M.I.I. East for surgical procedures such as extraction and dental implants.
Call (914) 923-6688 to schedule a visit. The office is located at 55 River Street, Sleepy Hollow, NY (in Ichabod's Landing and close to Hudson Harbor). You can also visit their site at http://www.briarclifffamilydentistry.com or http://www.dentist-on-the-hudson.com.