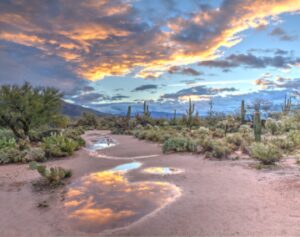 Arizona may not be the first place you think of when it comes to sports betting, but the Grand Canyon State has plenty to keep you entertained. There are sportsbooks, tribal casinos and gaming venues for you to explore. Just make sure you abide by the state's laws.
Before your visit, you need to know the ropes. Due to Arizona's late arrival to legalised world of sports betting, most of the rules are fresh, but you need to keep tabs on updates.
We can help you stay on the right side of the law, oh, and have fun too. Here's a brief look at Arizona's gambling laws.
History of Sports Betting Laws in Arizona
Arizona only legalised gambling in 2021, despite federal approval nationwide in 2018. Before this, the Professional and Amateur Sports Protection Act (PASPA), passed in 1992, prohibited gambling almost everywhere in America. Some states had an exemption – Nevada, Oregon, Delaware and Montana – but the rest lacked permission. Congress lifted the PASPA in 2018, letting the American sportsbook industry flourish.
Where You Stand Today
Today, you must be 21 in Arizona to place a wager. This is true for most states, anyway. Since 2021, Arizona's commercial gaming industry has been developing into a fully-fledged industry, with casinos, bingo halls, and everything else you would find in place like Vegas.
The legalisation bill glided through both Arizona House and the Senate, giving sports betters in the state freedom to enjoy themselves. The Arizona government takes a cut of the revenue from sports betting, and as the industry grows, legalisation should prove to be a solid investment.
Venues and outlets must have gaming licenses issued by the State of Arizona. Many professional sports teams have permission to take bets – good news for Wildcats fans. Many tribal casinos, part of Arizona's significant indigenous population, have sportsbooks licenses too.  The Environmental Protection Agency (EPA) has even gotten involved to make these greener businesses.
Mobile sports betting is legal, and you can place wagers with national sites, opening up a world of opportunity for well-informed sports betters.
What to Watch Out For
Arizona has a thriving college sports industry, and you can place wagers on the outcome of games, moneyline-style. For propositional betting fans though, it is a different story. It is illegal in Arizona to place prop bets on college teams or individual players. This stops you betting on touchdowns, tackles and sacks.  Best to look to other states for your prop bets. High school sports betting is illegal too.
Involved in a sport in Arizona? Sorry, but you will get into trouble for betting in your own league. Players, referees, team members are all prohibited from this practice. You can bet on other sports, but if you're passionate about your own, you may feel a tad guilty!
Gambling on non-sports events, such as television awards and elections, can land you in trouble too. A motion has never been passed to allow this, but there is such a thriving sports culture in Arizona, you should keep busy anyway!