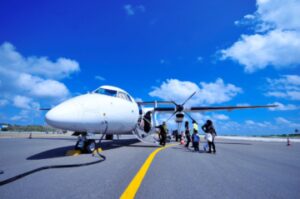 Private jet charter has always been a glamorous and exclusive way to travel. However, it's no longer just celebrities and highflyers who are booking private jet rental.
Businesspeople that appreciate the valuable time they save by designing their own itinerary and passing quickly through airports. Private jet travel, they've discovered, is more cost-effective than they thought. It shortens transfers, reduces or eliminates connecting flights and layovers, and makes passing through airports quick and easy. Leisure travelers seeking a bespoke holiday have turned to private jets too. 
However, a private jet card membership can offer both groups an even more premium service, and significant savings for frequent flyers.
Unveiling the Exclusive World of Private Jet Card Memberships
Private jet charter lets you choose your own flight times and gives you access to ten times the number of airports that commercial airlines offer. It offers a luxurious and streamlined experience that helps you make the most of your time, whether you're traveling for business or pleasure. 
The downside is that it can be hard to book charters at short notice, particularly at peak times. You may have to compromise on some element of your trip to get a flight. There are also no perks with flight-by-flight chartering, and no discounted prices or eliminated fees, either. 
Owning your own private jet instead may seem ideal. But beyond the high outlay of purchasing a private jet, consider the storage, maintenance, repair, and insurance costs. Plus, of course, the work and costs of recruiting and employing a crew, who will need rest breaks between flights and time off, too. The other alternative is crew hire, but that's not always easy on short notice.
This is where private jet card memberships come into their own. They combine the best parts of chartering and ownership while offering better prices and more advantages.
Elevating the Travel Experience: Benefits of Private Jet Card Memberships
Let's look at what these memberships offer.
Discounted Pricing
Jet cards require you to buy flight hours in advance or deposit funds upfront. This allows your jet broker to access the best flight prices. These prices usually include many fees that flight-by-flight charterers pay, such as positioning fees.
Guaranteed Flight Availability
Whether you have an urgent meeting or a sudden desire for a weekend break, there will always be a plane available for you, even on just a few hours' notice. You take precedence over flight-by-flight charterers.  
Access To a Large, Global Network of Planes
The world really is your oyster. From remote islands to mountain-resort landing strips, access is easy, with a network of planes available all over the world.
Personalized Services for Ultimate Convenience and Luxury
Dedicated account managers, tailored itineraries, and full concierge services give you the ability to customize every aspect of your journey—and the time you spend at your destination. 
Bespoke in-flight catering? An on-board beautician? Limousine transfers? Security services? Theatre tickets and restaurant reservations? All these, and so much more, can be arranged for you.
Exclusive Events and Experiences
A private jet card membership comes with a host of other perks, including exclusive events, experiences, locations, and services, all carefully curated for you. You become part of a club that not only gives access to a higher level of luxury, but also to other influential members, providing connections that can be hugely beneficial for your business or career.
The Next Step: Choosing the Right Private Jet Card Membership
If you think a private jet card membership is for you, then our final advice is to choose wisely so that you purchase the best card for your needs. Look closely at:
Aircraft Choice
Most jet cards offer guaranteed access to one category of aircraft. Make sure the category suits your requirements. If you often need other classes of aircraft, then check your access to them, and what the fees are for booking outside your category.
Area and Date Coverage
Some cards cover certain geographical areas and have blacklisted days when the card can't be used, such as national and international holiday dates. This may leave you needing to sometimes book additional off-card charters. Avoid these cards if this will be a problem for you.
Pricing Structures and Expiry Dates
A flight-hours jet card requires you to pay for a set amount of flight hours upfront, while with a deposit jet card, you deposit upfront funds to be used for flight bookings. Always check fees such as cancellation and management fees. Some cards also have an expiry date, meaning you could lose unused hours or funds, or flight cancellation fees.
Additional Services
Check out the extra benefits and services offered to make sure they're the ones most advantageous to you. 
Privileges, Perks, and Ultimate Convenience—At a Great Price
The benefits of private jet card memberships seem well worth paying more for. Yet, thanks to reduced flight prices and fewer fees—not to mention included services you may enjoy, such as free transfers or Wi-Fi—you will usually find yourself spending less money. 
Choose the right private jet card membership, and you really will find yourself getting more for less.