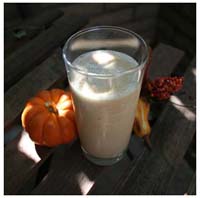 I swear it feels like someone flipped a switch and all the heat lamps went off. Sure I love this time of year, it's so pretty and the leaves will be changing soon and we'll get to go apple picking (although I never seem to quite make it there. It's like something else always seems to come up on the weekends; like begin indoors and warm) and eat apples till we're blue in the face. It's also time for Halloween (which actually isn't one of my favorite holidays. Kids don't say 'Thank you' these days or, come to think of it, 'Trick or treat' either. They just hold out their jam-packed bags of candy and implore you with their smirks that they want your candy now. Those little…)
Anyway, clearly I'm a more summertime girl who can actually stand the oppressive heat (most times that is – there was this one night this summer in my parents kitchen when my sister, myself and my parents were sitting around the table sipping red wine and literally melting into our chairs. We all showed each other how sticky it really was by slowly peeling our sticky back's off the chair and listening closely as our shirts struggled to free themselves from the chair. That was a ridiculously hot night and none of them could understand why I was suddenly so grateful for my hubby's insistence that the bedroom be just above freezing on night's like that… with the ceiling fan going at full speed. We're so green sometimes, I know.)
So amongst all the fall mania, apple cider (pie, cobbler, strudel, crisps and custards) and silly costumes that are to come in the next few weeks, there is actually one thing I'm looking forward to when it comes to fall.
Pumpkins.
Pumpkin pie has always been my favorite. Anything pumpkin flavored for that matter like pumpkin bread and even pumpkin coffee. For me, there is nothing bad about a pumpkin. (Well except for that funky smell that comes from digging out the innards of a pumpkin when carving it.. makes me want to run for the hills when a catch a whiff of that. And that one pumpkin pie my sister made that was actually this gray color, very unappetizing. But other than that, I enjoy my pumpkins.)
So in honor of my favorite vegetable (or is it a fruit because it has seeds?) Whatever it is, I have searched far and wide for a healthy pumpkin recipe to share so we can all enjoy a pumpkin early in the season. (Since technically it's still summer until next week – despite the flipped switch.)
What I found was…well not much. Pumpkin recipes aren't very healthy and while it's upstanding to make a batch of muffins and promise to only have one a day, that just ain't gonna happen… I'm certain of it.
So I found a smoothie recipe that I'm sure is going to be a hit if pumpkins are your thing.
Give it a shot and let me know what you think!
Healthy Pumpkin Smoothie
Ingredients:
1/2 cup pumpkin puree
1/2 ripe medium-sized banana (preferably a frozen one since it really adds to the smoothie as pointed out by roninsherpia when sharing my last smoothie recipe – good tip!)
3/4 cup fat-free vanilla yogurt (Go Greek)
1 tbsp honey
1/2 tsp pumpkin pie spice
1/4 tsp vanilla extract
1 cup crushed ice
Preparation:
Place all ingredients in a blender and puree until smooth, making sure the ice is completely crushed.
Makes two servings
Per 8-10 ounce serving: Calories 167, Calories from Fat 5, Total Fat 0.7g, Cholesterol 2mg, Sodium 74mg, Carbohydrate 34g, Fiber 3.1g, Protein 6.6g
Enjoy! And please make a note that beginning next week, I will be posting new articles every Monday, Wednesday and Friday. Thanks for your loyal readership!
Anne Marie Costanzo is a nationally certified personal trainer and owner of Little Black Dress Personal Training. She can be reached at am@littleblackdresspt.com or (914) 841-1121.