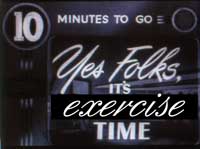 I hope everyone had a great Thanksgiving weekend filled with yummy foods, wonderful family and friends and maybe a guilty pleasure here and there. And for those who braved Black Friday, more power to you, I was in bed recouping after hosting and let me tell you, being pregnant and hosting are two things you don't necessarily want to combine. I was exhausted!! Lesson learned: source it out next time!
So since we've officially entered the holiday season, I thought that it might be a good idea today to review some exercise basics so we don't all fall off the wagon this season by adding on a few extra pounds that we'll have to deal with in the new year. Let's not add, "Lose 10 pounds" to our new year's resolution list this time around! By staying a little vigilant over the next month we can really improve our health, keep the weight off and start the new year off with an extremely bright outlook. All it takes is 20 minutes of your time on most days of the week.
By starting up an exercise program, making good food choices (the less processed the food the better) and adding in a little cardio, you're helping your body to fight off diseases, you're keeping the extra weight off, improving your mood, and allowing your energy levels to soar and your mental health to skyrocket. There is nothing bad about exercise no matter how you slice it. So I want to concentrate on just how simple it is for you to get in 20 minutes of cardio on most days of the week so you won't be overwhelmed by it or frustrated.
And most important, remember this… 20 minutes will make a difference! You don't have to spend an hour at they gym to get results. (Give it a shot if you don't believe me!)
Below are five suggestions I have on ways to get in your 20 minutes of cardio on most days of the week. Best of all, I'm suggesting you break it down into two, 10 minute segments. (It just got  that much easier. How can you say no now?)
1) Become the Stair Master – If you live in a two-story house or an apartment complex then you've got stairs galore. Take 10 minutes of racing up and down them to get your heart pumping, blood circulating and calories burning. (And if you have no stairs then maybe the next four suggestions will work for you!)
2) Jump rope – Simple as that. Get yourself a jump rope and jump away for 10 minutes. If you can't keep it up for 10 minutes straight, then work your way up to it. Do what you can with the rope and then fake it till you make it. (Meaning jump rope without the rope.) You're still getting the movement in, you're just not getting tripped up every 5 seconds. Keep at it until you can go the whole 10 minutes without skipping a beat.
3) Become a Mixologist – Dance, march in place, jog around the house, do some grapevines, side to side jumps, jumping jacks, churn some butter and do the lawnmower… use a whole silly combination of moves that keep you active for 10 minutes. Anything goes with this one as you work on becoming master of the mix.
4) Bike or jog around the block – That's really not asking for too much. A 10 minute bike ride or jog gets you outside and into the fresh crisp fall air. Nothing like 50 degree weather to wake up your body. Dress in layers and by the time you get back home, only 10 minutes later, your body is warmed up and ready to start the day!
5) Don't think too much – This always gets people in trouble. I know I wouldn't want to lift a finger if I've been thinking about how awful it would be to climb stairs, jog around the block in the chill morning air, or dance like a fool in my living room. If you think too long about it, and how you're going to hate doing it and how you'd just rather stay in bed for 10 minutes, then you're slowly creating your own Mt. Everest and who the hell wants to climb that at 7 in the morning, or 7 in the evening after a long days work. Thinking complicates things, so I suggest you remain oblivious to things until your find yourself in the moment and doing the dreaded chore. Guaranteed you'll feel 1,000 times better once it's over!
So there you have it, 5 ways to get in two 10 minutes sessions on most days of the week. (Ok , it's actually 4 ways with one piece of advice thrown in for good measure.) But still, it's an easy way to get in more exercise without having to hit the gym for an hour. Give it a shot, you'll be happy you did!
If you have any questions on Health & Fitness, please contact Anne Marie Costanzo at am@littleblackdresspt.com.