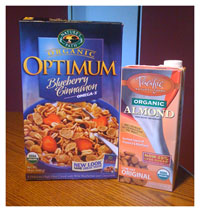 I don't think I'm that too difficult a person to please (despite what the hubby says), but it's taken me since this blog, Breakfast Gone Bad back in April, to finally find a cereal I could actually eat, actually enjoy and actually not feel like I'm pouring spoonful after spoonful of sugar down my throat. (Not that that last breakfast gone bad experience had any sugar in it… it tasted like, how did I describe it? A pile of wet dirt I believe.)
Anyway, there were less red flags this time around so I decided to take this box of hope home with me, because that's exactly what it represented; hope that there was indeed a cereal out there that despite being lightly sweetened by organic evaporated cane juice, could be good for me while tasting good. A girl can dream!
This bowl of cereal makes me happy. It's got crunch, fiber, protein, iron and only 9 grams of sugar, much less than your average yogurt, cereal and instant oatmeal. (Unless you're a sugar-buster and are filling yourself up with that fake sugar stuff which I'm more than a little wary of, especially if I'm consuming it every day… but that's a topic for another time and another day.)
Back to the cereal. It's called Nature's Path Organic Optimum Blueberry Cinnamon (with omega-3)… c'mon! Does it get any better? This cereal has everything a growing girl needs! And 1 cup is only 200 calories, half the amount of calories you should be eating at breakfast. So feel free to throw in a piece of fruit or hard boiled egg and you're starting your morning off on the right foot.
I'm sharing this newfound love because so many of my clients say that breakfast is the hardest meal to get in on most days, and when they do eat it, it's not a good thing. It's a fruit bar, a flavored yogurt, a banana or some super sugary item. If you don't have time to pour yourself 1 cup of cereal into a bowl, then you're doing something wrong. Make time for breakfast… it really will help keep the weight off.
So give this Nature's Path a shot, you won't be disappointed. And if you are them maybe Kashi's 7 Whole Grain Nuggets are what you need… 😉
Anne Marie Costanzo is a nationally certified personal trainer and owner of Little Black Dress Personal Training. She can be reached at am@littleblackdresspt.com or (914) 841-1121.