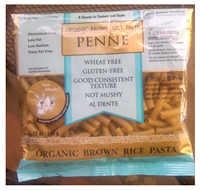 Sometimes I am just a culinary phenom.
There I am last night, immersed in all sorts of varying thoughts (because that's what happens when you let yourself lose on the internet. ADD is a byproduct of too many search engines, keywords and blogs. Who doesn't have ADD I wonder… let me google that) and my husband lets me know he's coming home late so I should eat without him. Well I don't know about you but if I don't have someone to cook for who will sit down with me and enjoy dinner, then the interest is gone and I gladly resort to cheese and crackers; dinner made simple. However, he had just gotten back from a business trip to Amsterdam (I know, "business" trip huh?) and he hadn't had a nice home cooked meal in five days so I thought I would make something that would be easy and quick to reheat whenever he got home.
Enter culinary whiz!
Pretty much all I had on hand was some asparagus, frozen shrimp and organic brown rice pasta (now before you get down on brown rice pasta you have GOT to try it). It's wheat-free and gluten-free, there is no icky aftertaste or rough texture to get past and it's not mushy. It may be a tad bit stickier but I find that to be a good thing because when I add a little parmesan cheese on top, it sticks right to the pasta and I like that.
Anyway, here is what I put together and I really wish I took a picture of it to add to this blog, but I had no idea I was going to be so impressed by me and that I would want to write about it today!
Here is what I did:
• Boiled water
While that boiled, I placed about 2 tbs of olive oil in a pan over medium heat, which I then added:
• 2 cloves of chopped garlic (let that sit for a minute or so)
• 3 to 4 good shakes from the bottle of red pepper flakes
• salt (substitute) and pepper
Stirred that around, then I added:
• 14 uncooked, deveined, deshelled shrimp
Let that cook for about 4 to 5 minutes until the shrimp turns pinkish.
Then I removed the shrimp and added:
• 15 stalks of asparagus, chopped in thirds
Let that sauté for about 10-15 minutes while the pasta cooks (cook both to your desired consistency).
When the asparagus was about done, I added the shrimp back in just to heat it back up and then I threw it all in a bowl, added a little flax seed oil on top and some parmesan cheese and there is was, delicious personified.
If you can get past the organic brown rice pasta (which isn't difficult to do) then you will really enjoy this meal! The hubby loved it.
Anne Marie Costanzo is a nationally certified personal trainer and owner of Little Black Dress Personal Training. She can be reached at am@littleblackdresspt.com or (914) 841-1121.