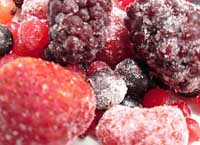 It's no secret that I absolutely love Jamie Oliver, especially since he took on the most unhealthy community in America (somewhere in VA) and created a food revolution focused on getting schools to provide healthier lunches in an effort to help curb childhood obesity rates. (It's estimated that children of today will not live longer lives than their parents.)
Jamie's philosophy is simple: use fresh ingredients to create delicious and simple meals. It really doesn't take much to whip up a fresh sauce for pasta or cook up some yummy veggies. Here's a great recipe I swiped from his site that's delicious, easy to make and helps curve that sweet tooth when dessert comes a calling! (For more great recipes, check out his site at www.jamieoliver.com)
1-Minute Berry Ice Cream (OK, so it's really not ice cream but it's good, and it's healthier!)
Ingredients
• 1 x 500g pack of mixed frozen berries
• 150g fresh blueberries
• 3–4 tablespoons runny honey
• 1 x 500g tub of natural yoghurt
• a few sprigs of fresh mint
• optional: 4 small ice cream cornets
In advance: Put 4 small glasses in the freezer, or you can serve straight into ice cream cornets, if you prefer.
When you're all set up and ready to go, get the glasses (if using) and the frozen berries out of the freezer. Divide the fresh blueberries between the glasses or cornets. Put the honey and yoghurt and leaves from the sprigs of mint into the food processor and whiz, then add the frozen berries and whiz again until combined. Spoon the frozen yoghurt over the fresh berries and serve.
Easy as pie!
Anne Marie Costanzo is a nationally certified personal trainer and owner of Little Black Dress Personal Training. If you have any questions for her, please contact her at am@littleblackdresspt.com or (914) 841-1121.