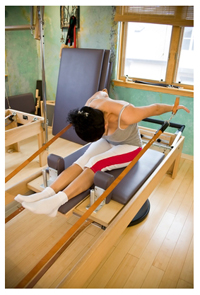 So we're halfway through the month of Get Your Rear in Gear (aka May), and I'm curious if anyone has started getting their rear in gear! Any stories to share, comments or opinions to leave in that little box down there? Any great, inspiring thoughts? Newfound passions?
Anyone?
Well I've tried to make this month fitness-ly more interesting for me. Since I already workout regularly, I've tried coming up with new workouts that would challenge and excite me, like that boot camp workout I shared with you a few blogs ago. (I love that one. Every time I know it's boot camp day, I cringe, and isn't that the universal sign for a good workout?) I'm also trying to learn how to go about eating healthier and easing up on certain indulgences (this is where that French book comes into play!)
Another undertaking of mine is to start attending different types of classes offered at my gym. While I've never been a huge fan of classes (too many people, not enough room, fear of not getting the moves right and looking like an ass…), earlier this year my sister-in-law got me 12 free classes to Jazzercise so I had to check it out. (Yes, Jazzercise is back. I was shocked too.) But it has come a long way since the days of brightly colored leotards and permed hair. The class was actually fun… well probably more so for me since my Jazzercise-junkie sis-in-law was pure entertainment for me! The class was actually fun… well probably more so for me since my Jazzercise-junkie sis-in-law was pure entertainment for me! I think sometimes she was reliving her clubbing days with all the sashaying, excited jazz-hands, hair whipping, arms up in the air, attitude on the face… she was working it. Jazzercise is awesome, I highly recommend it!
So with that in my arsenal, my new class of choice is Pilates. (Yes, this will be my first time, and can you blame me? With those torturous looking 'reformers'—even the name frightens me—I shunned the art of Pilates out of fear. Straight up fear.) That's why I'm starting out with mat-based Pilates since I'm still not ready to get strapped into the reformer (as I write that word all I hear is Arnold Schwarzenegger's voice in my head… RE-Foo-MA!) I was going to hit it up today but I got the times mixed up so I will be looking to do that later this week.
Also, I'm going to try a Zumba class, which has spread like wildfire across the fitness world. They're popping up in every gym so curiosity has got the best of me. If it's anything like Jazzercise then I'm calling up my sis-in-law to join me! (I promise I won't make fun of you!)
So those are my efforts for this month. There are still two weeks left in Get Your Rear in Gear so you have plenty of time to try to bring more fitness into your life. Try a new class or buy a new workout DVD or sign up for a 5k (those are popping up all over the place.) Just make sure to get out, get fit, get healthy and have fun doing it!