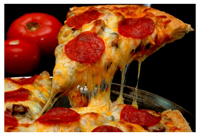 Who doesn't love going to a pizza restaurant to eat pizza? The sauce, the bread, the cheese, the various things you can top it with… what's not to love? The other night my hubby made such a great pizza that I must share. The key here is that you want to make it a thin-crust pizza so you're limiting the amount of chewy bread you're consuming. Think nice, crispy crust! So good especially when made in the ooni pro!
Arugula, Ricotta and Prosciutto Pizzette
• 1 bag of whole wheat dough, split in half. (Freeze the other half so as to limit your portions – save it for another day)
• 1 bag of arugula (or 1 bundle) – you'll probably only use half the bag
• 5 slices of real thin prosciutto
• 1 small container of low-fat ricotta cheese – you'll only use maybe 1/2 cup
Preheat over to 375 degrees
On a lightly floured surface, roll out the dough as thin as you can get it without creating big gaping holes – something very common when I do it
Lightly drizzle olive oil on the dough and spread around so as to evenly coat the dough
Place in the oven for about 10 minutes, or until the dough is partially cooked
Take out of the oven and add little spoonfuls of the ricotta cheese on the dough (or spread all over if you prefer)
Add arugula to coat the entire pizza
Add thin stripes of prosciutto (with as much fat taken off as possible) on top of the arugula
Top with a dash of black pepper and place back into the over for 5 to 10 minutes to warm it all up.
And that's it. Delicious pizza without all the guilt!