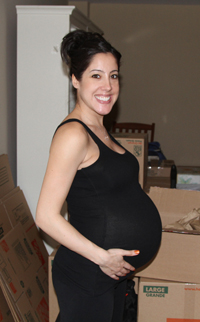 Welcome back everyone! I hope everyone had a wonderful Memorial Day weekend. Summer is finally here and like always, Mother Nature flipped a switch and it's sweltering hot! (Whatever happened to Spring? Where did Spring go?)
I'm looking forward to being back on the blogosphere to share some of my new insights with you—like motherhood is crazy, but I'm sure every mother knows that!—and take you with me on my journey back to my pre-pregnancy bod. (It's sure to be a bit of a bumpy ride… but I'm determined to get this saddle back in shape!)
And what a saddle that used to be. Now it's like a deflated party balloon, once so buoyant and bouncy, now so saggy and limp. It's unsettling how problem areas of old (pre-pregnancy) quickly pale in comparison to problem areas of new! (Baboon butt is no stretch of the imagination!)
Now, not only am I confronted with making decisions like which butt paste is best or how long do I go before having to perform the dreaded task of clipping his tiny, microscopic fingernails that appear harmless until you mistakenly clip too much, I now have to figure out how I'm going to get this saddle back into its skimpy summer gear. (Winter is indeed a great time to be pregnant since you can wear layer upon layer and no one is the wiser. However, you exit right into summer. Enter beached whale in skimpy clothing.)
The one thing I have learned throughout this experience is this: The key to getting your body back after being pregnant is making sure to be in shape before you get pregnant. On the other hand, if you're currently pregnant, it would be wise for you to learn topics like IMPLANTATION BLEEDING.
Here are my three reasons why it's so important:
1. It can actually shorten your labor.
2: It can help you get back into shape quicker after you deliver.
3: Exercise is good for the baby.
Proof is in the pudding ladies and here's my proof:
1. I pushed for 40 minutes and out popped baby.
2. At 2 weeks postpartum (and after receiving an episiotomy—thus baboon butt) I was up and taking walks around my neighborhood. (Albeit extremely slow, and I will admit I once got passed by an old lady wearing an eye patch one morning—good for her I say!) And at four weeks I was walking at least a mile a day with the baby strapped to my chest. (Isn't that Bjorn thing just the best.) I was also four pounds away from my pre-pregnancy weight.
3. I gained 28 pounds during my pregnancy and baby was born a healthy 8 lbs 6 ounces; and he's an eating machine, smiling at four weeks and rolling himself over at five 1/2 weeks. (I'm bragging already… so lame.)
I attribute all this to being in shape before and during pregnancy and to eating right while pregnant. (Although I did indulge here and there on chocolate and the occasional red velvet cupcake—what's a pregnancy without chocolate?)
Now, I'm not back to my pre-prego bod, but I definitely know that I'm a lot closer thanks to the fact that I worked out, was in shape and ate right before and during my pregnancy. This saggy butt thing and loose belly-jelly issues are another story though but I'm at six-week postpartum and I'm ready to get started on the road back to bikiniville (Goal date: End of July—I have a family trip to the beach so I'd like to be as skinny as my sister's who have each had three kids a piece and are thin mamas.) I will share with you my progress in the upcoming weeks and hopefully I will be able to inspire other new moms out there who are having a hard time getting themselves back in the saddle again! You can also check lifeasmama.com for more tips on how to lose the baby weight.
Let me know you're out there by sharing your stories, giving me a little push of support or by making the promise to yourself that you'll get yourself in shape before you decide to get pregnant because that's the first step in getting back your bod! (Think of it as a pre-emptive strike against unwanted body fat.)
I'm thrilled to be back writing again and here's to a great start to a fun summer!