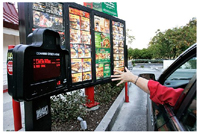 The little: preparation. The long way: weight loss.
Prepare your foods at the beginning of the week; be happy and satisfied the rest of the week.
Before I used to work out of my dining room, I remember the one thing I dreaded the most each day and that was lunch time. (Not the leaving my windowless office part, but the deciding which unappealing deli or Korean salad bar I was going to hit up that day.) Trying to find something healthy and under $10 for lunch was not an easy task and one that I rarely succeeded in.
Although, I soon came to realize that when I actually took the time to make my own lunch, I was a much happier camper! Lunch wasn't awful then and I could take my hour and spend it going to the bookstore or something else mundane but therapeutic. Much more enjoyable. And I ate better and felt better. Then I started doing it more often and my preparations grew. Not only was I making my lunch, but I was preparing my snacks as well.
If you're serious about weight loss then this is something that you should be doing also. Even if you have an unpredictable schedule and you're never doing the same thing twice you can still do this. You just need to be prepared. Wash and chop your fruit when you bring it home from the market so it's ready to go with you in a baggie when you need it. Store up on some Mini Laughing Cow cheese so if you're running out of the house, you can grab it and go. Fill up baggies with blueberry, peaches, nectarines, almonds and raisins, or carrots, celery, broccoli, cucumbers, pickles, zucchini. Even Pirates Booty or Smart Puffs are good options, or kettle corn popcorn for a sweet and salty treat.
All you need to do it take 30 minutes at the beginning of the week and prepare all these foods in little baggies so when you're ready to go, so are they. You'll avoid going too long without eating by doing this. You'll avoid drive-thrus this way. You'll avoid children throwing temper tantrums in your backseat b/c they're hungry (I've witnessed such outbursts and my goodness, the horror!)
Losing weight and getting fit takes a lot of effort, it's not easy. Something worthwhile is never easy though and this will take work on your part. Yea it sucks putting together little baggies and cleaning and chopping fruits and veggies, but in the end it makes your week, your life and your health that much better!