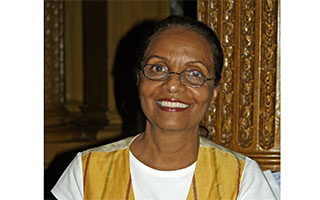 Westchester Community College will present Dr. Elizabeth Nunez, an accomplished author, scholar, and teacher, at the college's Mount Vernon Extension Center at 175 Gramatan Avenue on Monday, April 29 from 4:00 to 5:00 p.m. The college's Celebration of Caribbean Culture event will feature a reading by this distinguished professor of English at Hunter College. Nunez will read from her book,
Anna-In-Between.
Nunez immigrated to the United States from Trinidad, received a PhD from New York University in English. She has authored eight novels. Anna-In-Between was selected as a New York Times Editors' Choice. The book covers themes of emotional alienation within the context of class and color discrimination.
This program is provided through the generous support of the Westchester Community College Foundation and through the Alan and Jackie Stuart Endowed Faculty Chair in Developmental Studies.
Members of the public are invited to attend. Please RSVP prior to the event, due to limited seating. Call 914-606-7216 to RSVP or for more details.