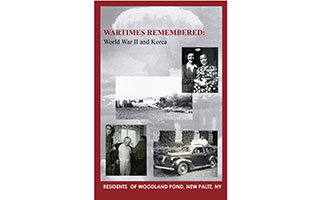 Residents at Woodland Pond, a Continuing Care Retirement Community (CCRC) in New Paltz, just released Wartimes Remembered, a collective array of true stories based on their personal experiences during World War II and the Korean War. The 178 page book is available for purchase on Amazon and contains 37 memoirs from seniors recording historical accounts in a new light. Woodland Pond will host a launch party on July 4th to celebrate the release of the book and the collaborative effort it took to make the publication possible.
The publication of the book is timely, as July marks the 60th Anniversary of the end of the Korean War.  Two Woodland Pond residents, Ray and Anne Smith, initiated the project. Pete Johnston, who had previously worked for the United Press and the New York Times, volunteered his services as managing editor for the project.
"When the veterans and residents in the community found out about the book, we were all eager to contribute our stories," said 80-year-old Jay Bishop, a Korean War veteran. "I submitted two stories, one from my childhood experience during World War II and the other from my time serving in the Korean War. We all had fun assembling the stories together. After 13 months of hard work, the book is finally made available to the public."
Wartimes Remembered is a compilation of unheard stories. It includes protecting and saving art during the war, extreme cases of collecting scrap metal, civilian work in Japan after the war, the impact of 1940s photography on children, stories of loved ones lost at war, family travels from Europe to America, missions overseas to deliver supplies and bring home troops, and warfare efforts on the home front. The book is being published through CreateSpace, an online publishing tool available through Amazon, which allows authors to self-publish without incurring any expenses.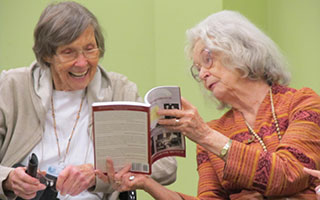 "This book is the greatest thing since sliced bread, and it is creating a lot of buzz around the community," exclaimed 90-year-old Albert Becker, a World War II veteran. "Wartimes Remembered is both descriptive and easy to read. Putting this book together was so important because many children read about these wars in history books, but their textbooks do not provide personal accounts. This book makes the wars and time periods come to life. We could not have put this book together without the dedication of Pete Johnston. His work was out of this world. We spent many days writing and editing my story until it was perfect! He did so much for this book."
Halema Hassan also worked closely with Pete Johnston on writing projects in the community. She learned of the project through Pete, and contributed her time and energy to interviewing veterans, as well as compiling and editing their stories. Hassan described Johnston as beloved by all in the close knit community where everybody knows each other. Johnston passed away a few weeks before the book was officially available.
"The Mid Hudson Valley has a lot of history in it, many historical societies throughout it, and contains a genuine home grown history of the people who are from this unique community," shared Hassan.  "I think many New Yorkers in this area will find the book interesting and will recognize people in it."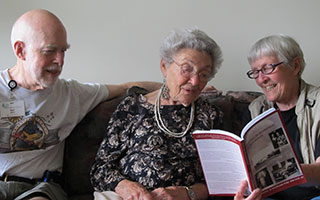 Before Pete Johnston passed, Ray and Anne Smith were able to present him with the first hard copy proof of the book. As a way to honor Pete and recognize his contributions, the residents chose to dedicate the book to him.
"Some of us experienced the war up close, and others were children during that period and remember the war vividly, but only as kids collecting tinfoil and rationing our food," expressed 80-year-old Ray Smith. "This book tells the whole story, from those who were in grade school to those who were fighting. Anne and I got the idea from a similar book that Anne's sister had sent us for Christmas. It was a compilation of World War II stories from veterans at Kendal, Hanover."
"We did not want to lose any of these personal historical accounts, as people in our age group are getting older every day," said 80-year-old Anne Smith.  "We wanted to record this living history in print so the stories could be passed down throughout the generations and shared with our families. Some of the authors have not even shared these stories with their children or grandchildren before."
All of the authors voted on the name and the price of the book. Pete Johnston, the managing editor, would make this final meeting to contribute his vote as well. Johnston had remained committed to the project despite his increasing health problems. Thus, the book is titled Wartime Memories and priced at $9.95, so that people could afford to purchase multiple copies for family members. All of the proceeds will be given to the Woodland Pond Foundation to benefit residents at the community. The launch party has been scheduled for July 4th at 3:30 p.m. Woodland Pond's Market Basket will be selling one book to each author/editor at cost. There will also be a party at Woodland Pond to celebrate the completion of the book. Woodland Pond will sell the book in the community's Market Basket to make it easily available to residents.
"This is such a brilliant and thoughtful way to preserve the memories of the residents who were alive during those periods of war," said Bob Seidman, executive director at Woodland Pond.  "We are very excited to celebrate the launch of the book and all of the people who made it possible. We are delighted that their stories will be shared for generations to come."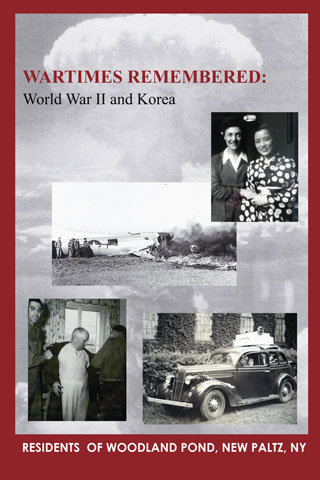 For members of the media who want to interview the Smiths, veterans featured in the book or a staff member at Woodland Pond, email Lauren Witt at lwitt@fortepr.com or call (214) 890-7912 ext. 42 or email Amy Jones at ajones@fortepr.com or call (214) 890-7912 ext. 30
ABOUT WOODLAND POND AT NEW PALTZ
Woodland Pond at New Paltz is located in New Paltz, New York, and is a not-for-profit, upscale, continuing care retirement community (CCRC), tailored exclusively for those 62 and over. Nestled beneath the shoulder of the breathtaking Shawangunk Ridge, the community is three years old and is the newest CCRC in the Hudson Valley area.  Woodland Pond offers an 83-acre campus that includes a professionally-staffed Health Center and a Community Center with an art studio, fitness center, heated indoor swimming pool, hair salon, market basket, billiard room, library, woodworking shop, game room, computer lab and more.
As a true CCRC, Woodland Pond at New Paltz offers independent living with a combination of a private residence (24 cottages and 177 apartments), services, and amenities. Under Woodland Pond's Life Care program, residents are provided privileged admission to the assisted living, memory care, and skilled nursing center. Life Care functions similar to a long-term care policy wrapped in a healthy and fulfilling resort lifestyle – so that residents can enjoy this chapter of their lives in an inspiring and supportive environment free from worrying about future escalating long-term care expenses.
Woodland Pond at New Paltz is an all-inclusive CCRC that caters to a diverse group of accomplished individuals with a variety of interests and a zest for life. The community is operated by HealthAlliance of the Hudson Valley, an integrated health care system committed to providing quality and compassionate medical care for patients, their families and our community in the Hudson Valley. For more details, please visit: http://wpatnp.org.