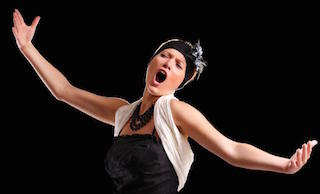 DIE FLEDERMAUS! Come and be a part of it!
After four years of success with audience sing-alongs for sold-out crowds, Taconic Opera returns once again with a debut performance of Johann Strauss' Die Fledermaus in the same format. Because this experiment in music and theatre has been so popular, with sold-out sing-alongs of La Fille de Regiment, Lucia, La Traviata and Carmen, audiences will again be given the opportunity to experience it for themselves at the Music Conservatory of Westchester, 216 Central Avenue, White Plains, NY for a single performance on June 4, 2017, at 2:30 pm.
By the composer of the famous Blue Danube Waltz, Die Fledermaus (The Bat) takes us on a three-act journey from boudoir to ballroom to jail, providing ample opportunities for farce and humor as well as genuine human emotion and a realistic view of urban life.  A popular example of Viennese operetta, it will be sung in its original German but with English dialogue, giving listeners the best of both worlds: music as the composer intended it to be sung in German, along with a story line that is easy to follow in English.  An experience at an affordable price and in the convenience of central Westchester, it is not to be missed!
Conducted by Music Director, Jun Nakabayashi, the orchestra and lead singers of Taconic Opera will perform Die Fledermausin a semi-staged production (orchestra, costumes, minimal sets), and audience members, if they choose,  can be part of the chorus of the opera.  Music will be provided on request if you do not have your own score.  The members of the chorus of the Taconic Opera will be seated among the audience – which the conductor will face at the correct times – so that anyone wishing to sing along can feel like a true blue chorus member in a live opera.  The intimacy of the venue allows the lead singers and the conductor to fully engage the audience and make them a part of the performance.  It is a unique and unparalleled artistic experience that left audiences raving the last four seasons.
Tickets are $27, $20 for seniors and $15 for students.  Tickets can be obtained by calling 1-855-886-7372 or online at http://www.taconicopera.org.  Score reservations (optional-$10) must be made in advance by phone only.