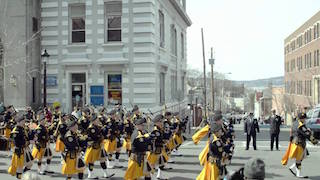 The Sleepy Hollow St. Patrick's Day Parade Committee is proud to announce that Kelly Murphy, Tarrytown, will be the Grand Marshal of the 21st Annual St. Patrick's Day Parade.
Leading the parade with Kelly will be her Aides (and the communities they represent), Joan Armstrong –  Irvington;  Sister Mary Elizabeth Donoghue, O.P. – Ossining;  Peggy Kraft – Tarrytown;  Jeanne Schnibbe – Hastings;  Armand A. D'Amour – Elmsford;  John Leavy – Sleepy Hollow;  Joseph Muldoon – Ardsley;  and Jim Walsh – Dobbs Ferry.   
The installation of the Grand Marshal and the Aides will be held at the Westchester Manor, 140 Saw Mill River Road, Hastings-on-Hudson, on Friday, February 24, 2017, at 7:00pm.
The parade will be held on Sunday, March 12, 2017 and will be dedicated to The Society of the Friendly Sons of Saint Patrick.
Parade formation will be on Main Street in Tarrytown and step-off will be promptly at 1:30pm.