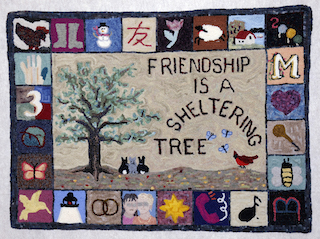 The Art Gallery at the Rockefeller State Park Preserve welcomes the New Year with an American Folk Art: rug hooking. The art of rug hooking was first introduced in the 1850s and is now a popular craft. The Hudson River Rug Hookers, a group of fiber artists in the Croton community, have been holding creative friendship meetings for more than 25 years. The artists produce textile art for walls, floors, and other decorative use.
The collection on exhibition from January 28th through March 4th features pieces by 17 artists, inspired by the Rockefeller State Park Preserve and the Hudson Valley landscape. A unique friendship rug, in which each artist crafted a 4" piece, ties together the Preserve's beauty with the group's friendship.
Featured artists: Marilyn Bottjer, Mary Alenstein, Helen Buerger, Amy Stoner Cotter, Qing Dollinger, Sally Doran, Anita Eddy, Joyce Kapadia, Heidi Lawrence, Mary Parker, Charlotte Rodziewicz, Robin Schwamb, Phyllis Shapiro, Diane Skalak, Michele Vozick, Ruth Weyland, Roya Zarrehparvar.
Curated by: Audrey Leeds and Marilyn Bottjer.
An artist reception will be held on January 28th from 1:00 PM to 3:00 PM; it is free and open to the public. The Art Gallery and Preserve Office (125 Phelps Way, Pleasantville) are open daily from 9:00 AM to 4:30 PM. The Preserve is open to the public 365 days a year.

Rockefeller State Park Preserve was created through several farsighted and generous gifts to the State of New York by the Rockefeller Family since 1983. It is designated as a "park-preserve" to highlight and protect its natural, historical, and cultural values. For information on programs or volunteering at Rockefeller State Park Preserve, stop by our Office, or call 914-631-1470, ext. 0.
The New York State Office of Parks, Recreation and Historic Preservation oversees more than 250 parks, historic sites, recreational trails, golf courses, boat launches and more, which are visited by 69 million people annually. A recent study found that New York State Parks generates $5 billion in economic activity annually and supports 54,000 jobs. For more information on any of these recreation areas, call 518-474-0456 or visit www.parks.ny.gov.