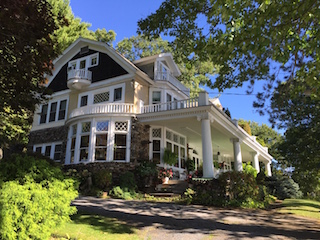 Okay, so everyone speaks of a "bucket list" these days and we're going to buck that mentality. No need to wait as summer wanes and fall awaits us. Take yourself, your mate, your friend or your significant other [I think that about covers all bases] north on the Northway up to Hague, NY where you will find an extremely gorgeous Lake named George and an equally impressive Bed & Breakfast named Ruah –  a word that translates to "Spirit" or "Breath" in the Old Testament.
Peter and Judy Foster, raised and schooled in Irvington and Sleepy Hollow respectively, purchased the Ruah in 1984 as a summer home, and the story has unfolded ever since. In 1995 they chose to leave our metropolitan area and move north permanently. As the "spirit" would have it, the magazine HouseBeautiful approached the Fosters at the same time looking to do a makeover of a large room "with great bones."  That makeover transformed an already beautiful living space into an unforgettable one.
"The beauty of Lake George is, unquestionably, the clarity of its water. In this day and age it is hard to comprehend that it is still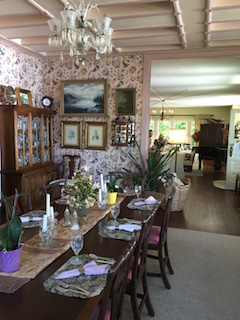 drinking water quality without filtration. Hague is an anomaly, as it is not commercialized and yet is a tourist-driven community. We offer peace, quiet and tranquility. There is no traffic, no crowds. Our small town of 700 offers magnificent views of Lake George, several public beaches, wonderful hiking trails and historic sites like Fort Ticonderoga. Our General Store is the oldest continually-run general store in the Adirondack Mountains," Judy Foster noted.
Regarding the guests who visit and stay at the Ruah, Judy says they "are a microcosm of the world, and in one weekend (for example) people who were gathered at the breakfast table came from Germany, Slovenia, Australia and good old New Jersey." Others from about every State in the U.S.A., France, Italy, South Africa, Greece and other countries from all around the globe stop, stay and refresh at Ruah. At that breakfast table, conversation and an array of cuisine blend together at the start of each day. "I enjoy cooking and love seeking out interesting recipes for breakfast. Some of our guests' favorites are the Oven Pancake topped with fresh fruit, cheese, tart lemon and sweet sugar. I also prepare my mother's favorite Fritata recipe with potatoes, peppers, onions, bacon, fresh herbs, cheese and eggs. We also serve an Oven French Toast with brown sugar, butter and molasses. Every morning there is a different hot dish accompanied by a breakfast meat. Our buffet always has a fresh fruit compote, cereals, granola, juice, and baked items with coffee or tea," she added.
Hague, NY, Lake George, the Ruah and much, much more are 3½ hours away, driving non-stop in a modern sedan or SUV fromour Rivertowns. 4 hours if nature calls or hunger prevails. "In this busy, hectic world filled with daily stress, it is harder and
harder to find places to escape to. Hague is a throwback to a different era," – and who should know better than Peter and Judy Foster.
Ruah Bed & Breakfast is located at 9221 Lake Shore Drive, Hague NY 12836.
Telephone (518) 543 8816 or ruahbb@aol.com.
Visit www.ruah.com
And this story doesn't end here. If you drive a car, you can drive a boat – for two hours, a half day or a full day; within minutes of the Ruah is Dockside Landing Marina. Manager, Scott Olson, and his staff are all boat worthy and will help you to become so, too. You can elect to simply cruise magnificent Lake George, or if Indian Summer prevails, you may want to water ski, wakeboard or kneeboard. Simply said, being on Lake George in a boat is as gratifying as gazing at it from a chair.
Reservations@docksidelandingmarina.com
or call 518-543-8888.
One final note –  and that is: the Ticonderoga Country Club and the Emerald's Restaurant which overlooks their magnificent golf
course. A public course of immense beauty and a restaurant with matching views and fine food. One that does not bite you when the check arrives with your after-dinner mints. The course is ten minutes north of Hague on the one and only road along the western side of Lake George.
Summer is still with us and Fall is coming our way. Time for a getaway in "A New York State of Mind."