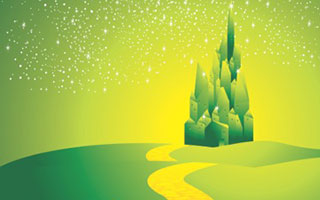 Taconic Opera, now in its sixteenth Season in Westchester, will present an unusual fundraiser in White Plains on Thursday, September 7th, 2013.  Not only will the presentation be unique, but so will the venue and location.  After having expanded its performances to White Plains a few years ago, the company is ready to move its annual fundraiser into Westchester's central city.  The company will hold its annual gala at the CV Rich Mansion right in downtown White Plains.
The gala's theme is "The Yellow Brick Road."  Will the company depart from singing opera at the event and share with us something sung by Judy Garland?  "That will be a wonderful surprise," says General Director, Dan Montez.  "This gala will be special and feature a story line throughout the evening that will take us all down that memorable road to our own Emerald City."  The company promises the extremes of entertainment on this journey from the hilarious to the dramatic.  The event will feature a sumptuous meal, entertainment from its top operatic artists, and an opportunity to honor some important individuals who have done so much to support the arts in the community.
Attendance at the event will be by donation.  Gold $250; Silver, $200; and Bronze $150.   Dan Montez declares, "Where else can you see a show, have an amazing dinner and park for free?" Tickets and reservations for the event can be arranged online or by calling (855)88-OPERA (886-7372).  The excitement begins on Thursday, September 12, with hors d'oeuvres served at 7:00 pm.  The CV Rich Mansion is located at 305 Ridgeway in White Plains.  Parking is plentiful and the venue is handicap accessible.
For more information, visit www.taconicopera.org