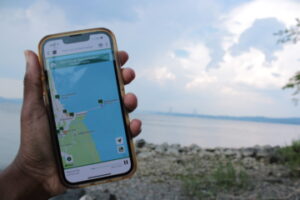 Did you know that the "birthplace of Piermont" is nestled between the steep cliffs of the Palisades? Or that what is now Pier 701 and its adjacent marina used to be the ice cream parlor and bathing pavilion for New York's premier vacation spot? Neither did I, until I took a stroll using Historic Hudson River Towns' (HHRT) walking tour on the TravelStorys app.  
Here are just a few of my favorite takeaways around Piermont: 
Bogertown — This cute little 10-house community can be found where Ferry Road and Paradise Avenue meet, right on the lip of Piermont Marsh. It was originally built in the 1800s, and actually once sat on an island until Paradise Avenue was lengthened to connect to a 500-foot pier in 1924. 
Piermont Railroad Station — Hikers, bikers, runners, and dog-walkers have all passed this iconic, defunct train station, which is now a museum. It ran between Jersey City and Nyack, and in the Roaring '20s, serviced 40 trains a day! Can you imagine? Many passengers were heading to Fort Comfort Inn & Resort, that luxury vacation destination I mentioned earlier. 
The Mine Hole — Being a person of color, the most interesting thing I learned about Piermont was that there is a stretch of Piermont Avenue along Sparkill Creek that used to be its black and brown neighborhood, established long before the Revolutionary War. Rocklanders of all colors and creeds learned, ate, and drank together. It's nice to know that some things don't change. 
Tips for Using the App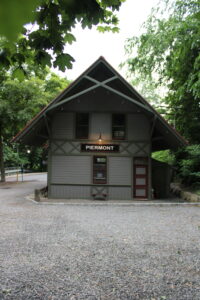 Piermont's walking tour is one of the newest on the HHRT app, but you can also explore river towns like Irvington, Sleepy Hollow,Tarrytown and Nyack or opt to listen on a driving tour.  
The app is very user-friendly. Once you've downloaded the tour to your phone, you don't need WiFi or cell service to run it, and the audio stories trigger automatically as you approach each site. Each story is only a couple of minutes long, yet chock full of interesting facts.  
Where you start is up to you. Walking my particular map typically was estimated to take about an hour (unless you're like me and love to stop frequently to wander off the beaten path and take pictures). If you do find yourself on a blissful tangent, don't worry — the GPS feature will get you back on track when you're ready. 
With support from the Rockland County Office of Economic Development and Tourism, the Piermont Historical Society produced Piermont on the Hudson tour to provide locals and visitors alike the opportunity to explore and learn about the former industrial powerhouse. 
If you're someone who loves traveling but never thought to explore your own town, do yourself a favor and download this free app to see a familiar place in a new, more in-depth way. As you explore, interacting with landmarks while listening to their origins adds an extra dimension to the experience that novices and history buffs will appreciate.  
Learning more about Piermont on the walking tour was a great mix of education, exercise, and entertainment, especially on a gorgeous summer day. Go alone or bring your friends and family; either way, you'll be happy that you did! 
Historic Hudson River Towns Audio Tours > hudsonriver.com/hhrt/audio-tours/ 
Piermont Historical Society > piermonthistorysociety.org