Rocklanders love the classics — cars that is.   
Chris Vallone drives a 1954 Volkswagen convertible. Deb Collorafi has a powder blue '66 Corvette, while Mark Outwater can often be spotted behind the wheel of his 1953 F-100 pickup. And they're not alone. If you have a passion for classic cars, there's a place for you: The Rockland Rodders, based in Pearl River, welcomes all.  
"Just stop by one of our Friday night meet-ups in Pearl River," says Outwater, the club's vice president. Or head to Nyack in July for the Chamber of Commerce's annual Classic Car Night, when hundreds of vintage vehicles are on display. Until then, find out what drives these three enthusiasts. 
Working Out the "Bugs"  
Chris Vallone bought his first car after graduating from St .Thomas Aquinas College in 1999. "I grew up on Looney Tunes," he says. "So, I wanted to drive a (VW) Bug."  
He found a red, 1971 Volkswagen Super Beetle convertible with a white top and white wall tires and set to work restoring it with his dad, Chris Sr. "My dad worked on muscle cars, not VWs, but he said 'let's get into it,' and we did."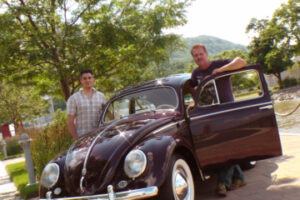 They worked on the Bug, then found another…and another. Vallone was also writing screenplays, so when it came time to pay the bills for a film he wrote called The Agent, the broke artist quickly sold one of his restored VW Bugs on eBay. 
The buyer drove to Rockland from Cincinnati to pick it up. "At the time, I thought, 'this is insane'," Vallone says. 
The Vallones realized the value of their restoration work and shifted gears from hobbyists to businessmen. The following year, they flipped a dozen cars. "The one that kicked it up for us was a '54 Beetle that we found in Monsey under a tarp," he says. "It was super rare. We grabbed it and restored it and it sold in two days to Billy Joe Armstrong of the band Green Day."  
Today, the Vallones' company, Classic VW Bugs in Congers, has a 2-year waiting list. 
His customers come from all walks of life — comedian Jerry Seinfeld is a customer — and from all corners of the globe. Most are collectors, content to admire, not drive, their cars, but there are others who are happy to get them on the road, including Vallone. 
Each fall, Vallone hosts a VW Fall Cruise on the Hudson; last year, it attracted 73 classic VWs. The thrill of finding a rare car and bringing it back to life is one reason Vallone does this. The other?  
"I come into work and basically, we look at toys all day, and the fact that I am doing it with my dad every day? That's priceless."  
3 Questions for Chris Vallone  
What he drives: "A 1954 VW convertible in Silver Granite. Volkswagen used that paint for just one year on the '54." 
Favorite restoration: "My wedding car, a 1970 convertible that I restored with my dad and painted Spicy Orange Metallic."  
What's on the radio? "Nothing! I hear the engine and that's enough." 
< facebook.com/classicvwbugscom/ 
Motorheads Run in the Family  
Deborah Collorafi of Nanuet is a self -described "motorhead" who sometimes drives a powder blue, '63 split window Corvette. 
For years, she and her father Robert Scheffold, known as "Yogi," drove the classic car to shows around the county, but lately, with her dad ailing and work obligations, her heart just hasn't been in it. "I am trying to get it back out there," she says. 
Restoring the car with her dad, a long-time Rockland resident and Corvette specialist, has been a labor of love for Collorafi. 
"My dad had that car for as long as I was alive, and finally in the 1980s, he decided to restore it," she says. "I was 12 years old and helped with everything, glued in the carpet, ran wires." 
For her 40th birthday, her parents gifted her with the car. Her vanity plates read "Yogi's Girl." 
"My dad is a well-known guy around the county," says Collorafi, a detective with the Port Authority police.  "He's a Marine, a retired mechanic, and a Corvette specialist."  
Did we mention her mother Kathy Scheffold is a National Drag Race record holder, recognized by the National Council of Corvette Clubs?  
Which explains the family passion for 'Vettes. "My parents always had Corvettes. After he was born, my brother Joe was taken home from the hospital in a Midnight Blue one," she says.  
Collorafi is still dabbling. Her husband Chris, who owns Northeast Off-Road Center, in Haverstraw, is looking for a project they can do together. "He builds custom cars and trucks. When we got married in 2014, my parents gave him a set of Snap-On wrenches engraved in gold."  
But those days with her dad in the family garage are what linger. Over the years, Collorafi and Yogi did a ton of rides, drives, and shows together in her powder blue Corvette. 
"We did Cops 'N Rodders, Bear Mountain, Orchard Beach, and all the local shows," she says. "But my dad is not well and I just don't have the heart to do it without him. His whole life, he shared his passion and knowledge of cars with me and this car is so special. I will have it forever."
3 Questions for Deb Collorafi  
What she drives: GMC Yukon 
What's on the radio?  "Country and Doo-Wop. When I get into the Corvette, I listen to Frankie Valli. Sometimes, I feel like I was born in the wrong era!" 
Dream car: "A 1969 Camaro! I have the Corvette, but I am a Camaro girl, the Z-28. I love the '80s, '90s and 2000s."  
Classics, but Comfortable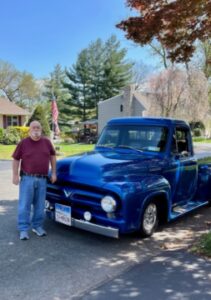 Mark Outwater loves driving his classics, which have ranged from a 1935 Ford pickup truck to a Model A sedan. But don't be fooled by the vintages: Outwater refurbishes his vehicles with creature comfort in mind. 
"We (Outwater and his wife) drive to a lot of different shows, in Pennsylvania, Syracuse, Ohio," Outwater says. "Can you image sitting in bumper-to-bumper traffic on Interstate 80 in 90-degree weather with no air conditioning?" 
Like many, Outwater got his first car in his youth. "It was a '56 Chevy, but I was 15 and not old enough to drive it legally, so I fixed it up and sold it before I was 16," says Outwater.  
"I saw the opportunity to make a few dollars, so I did and that allowed me to move onto a big, better car, a '65 Corvair Monza Spyder convertible." 
Outwater today is the Vice President of the Rockland Rodders, a Pearl River club with over 100 members. Outwater joined the Rodders in 1997. 
He says he liked finding unique cars, fixing them, and then selling, but a few he kept for himself. And unlike some enthusiasts, he drove them. 
"There was that '36 Chevy pick-up; that was quite a machine. I drove it around all over the place for about 10 years, then I moved onto another favorite, a red Model A sedan. Right now, I am hooked on my 1953 F-100 pickup. When I got that, I upgraded a lot of stuff. The interior was ratty, I added a stereo." 
These days, from May through September, you can find Outwater and his pickup at Pearl River's Central Avenue field where the Rockland Rodders gather each Friday for cruise nights. "Most nights, we have 50-90 cars there," he says. "Rodders, most of them like to enjoy their car, drive it and show it off," he says.  
Out on the road, he enjoys the reaction he gets from other drivers.  
"We get waves, thumbs up and some people even holler at you," he says. "They usually want to hear the exhaust."
3 Questions for Mark Outwater  
What is your everyday car? Ranger pickup  
On the radio: Classic vinyl, satellite radio 
Dream car: "I have pretty much had them. I've seen cars I've liked, but would be afraid to drive."