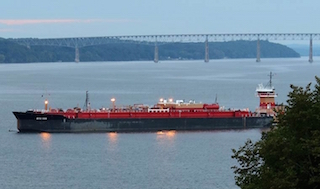 Following the news that a barge carrying 65,000 barrels of gasoline ran aground in the Hudson River, Scenic Hudson renewed its call for the U.S. Coast Guard (USCG) to terminate the rulemaking process that would establish 10 new anchorages in the river for 43 vessels carrying gasoline, explosive crude oil and other hazardous materials. The organization also urged the State Legislature and Congress to enact bills that would halt creation of the anchorages.
The barge ran aground on the river's west side just offshore the Village of Catskill. The state Department of Environmental Conservation (DEC) says no gasoline spilled into the river.
"This incident underscores the serious threat posed by the transport of crude oil and other hazardous materials through the Hudson Valley. Fortunately, no gasoline was spilled—but next time we may not be so lucky. Establishing dozens of new locations for these barges to anchor in the Hudson would only increase the risks of groundings, collisions and spills," said Scenic Hudson President Ned Sullivan.
"I thank state Department of Environmental Conservation Commissioner Basil Seggos for his on-site presence at the accident and commend the DEC's rapid response," added Mr. Sullivan.
Floating warehouses pose major threats to water supplies, aquatic habitat, world-class views
The USCG proposal calls for establishing 10 additional anchorages with space for 43 vessels between Yonkers and Kingston. At all but one of these berths, ships would be allowed to "park" for up to 30 days, in effect creating floating warehouses for vessels carrying crude oil and other flammable chemicals. The Coast Guard's sole rationale for creating anchorages is to improve maritime safety. No evidence has been provided to demonstrate a safety rationale for additional Hudson River anchorages above those that currently exist.
By facilitating barge traffic on the Hudson—essentially turning it into a crude oil superhighway—the proposal increases the likelihood of collisions and spills that could pose serious risks to local water supplies and irreplaceable aquatic habitats. Groupings of the massive barges, each longer than a football field, also would mar scenic vistas vital to the valley's tourism economy and increase noise, air and light pollution alongside waterfronts where millions of dollars have been invested to revitalize them.
For all of these reasons, the proposal has drawn strong opposition from business and environmental groups; local, state and federal officials; and citizens. Of the 10,000 public comments submitted to the Coast Guard about the plan, the overwhelming majority were negative.
Federal, state legislation proposed to safeguard Hudson River, waterfront communities
Fortunately, the Hudson Valley's legislative delegations at the State Capitol in Albany and at the U.S. Capitol in Washington, D.C., have noted the severity of the risk posed by oil tankers and barges and have advanced legislation to protect the region's environment and communities.
New York State Assemblywoman Didi Barrett (D-AD 106) and New York State Senator Sue Serino (R-SD 41) have proposed legislation that would enable the DEC to establish "Tanker Avoidance Zones" based on the presence of significant habitats and the concerns of waterfront communities. The bill (S.5197/A.6825) would amend an existing section of the state's Navigation Law that currently establishes such zones based on navigational safety alone. The measure would allow the state to proactively decide where it does not want new anchorages to be established, in consultation with the U.S. Coast Guard, the New York State Board of Commissioners of Pilots, NYS Department of State and NYS Office of Parks, Recreation and Historic Preservation.
In Washington, U.S. Representatives Sean Patrick Maloney (D-NY 18) and Eliot Engel (D-NY 16) have proposed legislation to Congress that would protect the Hudson River and its communities against the devastating Coast Guard proposal. The Hudson River Protection Act (HR 1501) would prohibit establishing anchorages for vessels carrying hazardous or flammable material as cargo within five miles of nuclear power plants, a site on the National Register of Historic Places, a federally designated Superfund site or a critical habitat of an endangered species.
"Scenic Hudson urges state and federal lawmakers to support these vital legislative proposals. In the absence of legislative action in Albany and Washington, the people's right to access and enjoy the Hudson River could be forever put at risk," stated Scenic Hudson Director of Public Policy Andy Bicking.