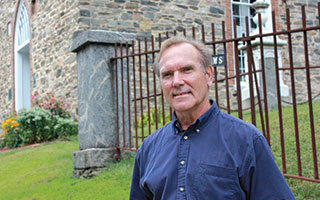 Have you ever wondered about the origins of the Headless Horseman?  And just what is the relationship between this Village dubbed Sleepy Hollow and the legendary story that shares its name?  Have you ever read the short story of "The Legend of Sleepy Hollow" penned by the father of American letters, Washington Irving?
At right, Author Henry John Steiner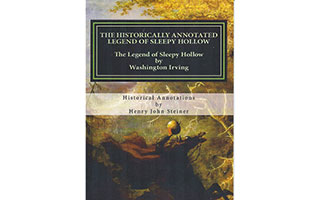 A new book of historical annotations that accompany Irving's famous tale has been produced by long-time Sleepy Hollow Village Historian, Henry John Steiner, and through his own photographs, research, and historical documents, Steiner offers intriguing facts, anecdotes, and insights that help bring to light the profound influence this pastoral community had upon Irving and in the development of his iconic characters.  Steiner, a lifelong resident of Tarrytown and Sleepy Hollow, writes in the introduction of his book, "The literary success of 'The Legend of Sleepy Hollow' lies in the author's masterful blending of its parts…the descriptions of scenery, customs, manners, etc. were drawn largely from life – the evocative locale Irving first observed in his teenage years."
Copies of Steiner's book, The Historically Annotated Legend of Sleepy Hollow can be found locally at Historic Hudson Valley gift shops at Sunnyside, Phillipsburg, and Van Cortlandt Manor, Bella's Boutique in Tarrytown, and Sleepy Hollow Stationers, located on weekends outside the cemetery gates in Sleepy Hollow.  The book is also available online through Amazon.com.