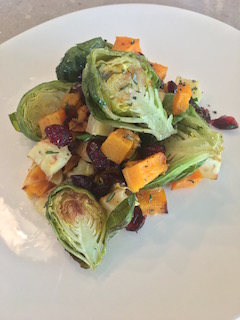 Before you go running for the hills because you saw a Brussel sprout or two nestled between all the delicious morsels of butternut squash and parsnips, stop and give this recipe a try. The combination of sweet cranberries coupled with the bright lemon zest and fresh herbs make this vegetable medley pop off the plate! This dish works as a great side dish with little fuss or could be served as a vegetarian entrée.
Roasted Vegetable Medley
Prep Time: 15 minutes
Cook Time: 20-25 minutes
Yield: 6 Servings
Ingredients:
2 tablespoons Extra Virgin Olive Oil
1 medium Butternut Squash: peeled, seeded and medium diced
3 Parsnips: peeled and medium diced
1 pound Brussel Sprouts: halved
10 sprigs Thyme
2 Lemons: zested
1/4 cup Dried Cranberries
2 tablespoons Italian Parsley: finely chopped
Salt and Black pepper to taste
Method of Preparation:
1. Pre-heat oven to 425 F. Line two sheet pans with aluminum foil and set aside.
2. Place the diced butternut squash, parsnips, zest of one lemon, and half the olive oil in a mixing bowl. Toss everything together to combine and then spread evenly on one sheet pan. Season the vegetables with salt, pepper and whole thyme sprigs. In another mixing bowl, place the Brussel sprouts with the remaining oil and lemon zest. Toss them together to evenly coat them and spread them on the other sheet pan. Season the Brussel sprouts with salt and pepper. Place both sheet pans in the oven. The Brussel sprouts should begin to get golden brown after 12-15 minutes depending on your oven. Once they have achieved some color set them aside. The other squash and parsnips should take between 20-25 minutes to get some golden color, and once they do, set them aside. Strip the thyme leaves from the stems and sprinkle onto the now-roasted vegetables. Combine the two trays into one bowl and mix in the parsley and cranberries.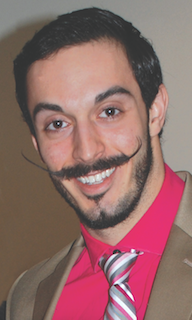 Lucio C. Battista is a graduate of Johnson and Wales University with a Bachelor's in Culinary Nutrition and a Master of Arts in Teaching. He can be found cooking in kitchens all over Westchester County as a personal chef and can be reached at lbattista9823@optimum.net.