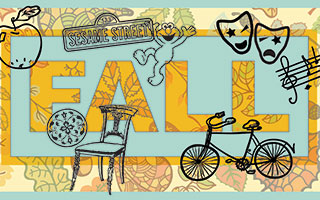 It's hard to believe summer is almost over, but there are still plenty of things to do and see in our area. Grab your bike, enjoy the great fall weather and go to Bicycle Sundays, sponsored by ConEdison and Friends of Westchester County Parks. Returning in September, a portion of the Bronx River Parkway is closed to vehicular traffic from 10:00 am to 2:00 pm Sundays, September 7th, 14th, 21st, and 28th.
The 13.1 mile round trip course runs from The Westchester County Center in White Plains south to Scarsdale Road in Yonkers with many access points along the way. Rules and regulations are available online at: http://www.countycenter.biz/event_BIKESUNDAYS.html. Parking is available at the County Center parking lot in White Plains for $5.00.
Celebrate Columbus Day weekend at the Sesame Street Live "Let's Dance!" event coming to the County Center in White Plains, October 10th – 12th. Hosted by two live performers, Sesame Street Live "Let's Dance!" offers an up-close, interactive experience for the whole family that includes dance parties.  Featuring the popular characters Elmo, who uses his imagination to "Do the Robot," Cookie, who teaches all "feets" to dance, Abby, who leads a rhyming game, and Ernie who shares the fun of dance with the Sesame Street favorite, "Shake Your Head One Time." These favorite friends join the audience on the floor – dancing with fans, not just for them. It's Sesame Street Live like you've never experienced it before! Show times on Friday, Oct. 10th are at 10:30am & 6:30pm.
Saturday shows on Oct. 11th are at 10:30am &  2pm, and on Sunday, Oct. 12th at 1pm & 4:30pm. Tickets are available and can be purchased at http://www.ticketmaster.com
September 14th and October 12th from 10am to 4pm are the two final weekend dates this year at the Hastings Flea Market, held at the Hastings-on-Hudson Zinsser MTA Commuter Parking Lot on Southside Avenue. The 2014 sponsor is Green Mountain Energy, a residential and commercial renewable energy supplier headquartered in Austin, Texas with an office location in White Plains. The Hastings Flea Market was founded in 2013 to bring together the best handmade jewelry and unique crafts, along with vintage and antique home goods and furniture, with a host of regular and rotating vendors. If coming from outside of Hastings, it is recommended that you pick up a map from the Information Booth so you can explore the best Hastings has to offer within easy walking distance! Visit https://www.facebook.com/hastingsflea to find out about vendor specials.
Consider planning an evening of music or comedy at the restored Tarrytown Music Hall this fall. Chocolate manufacturer William Wallace built the historic 843-seat Music Hall in 1885 and it is the oldest theater in Westchester County – one of just 6% of theaters in the United States built before 1900. For a schedule of artists performing at the Music hall visit the theater's website www.tarrytownmusichall.org, where tickets can be purchased, in addition to the box office agent (TicketForce, 877-840-0457), or physical box office at 13 Main Street. The Music Hall is currently owned and operated by The Friends of the Mozartina Musical Arts Conservatory, Inc., a 501(c)(3) nonprofit, educational, and cultural organization established in 1979 and managed by a volunteer Board of Directors. It's two-fold mission is to provide quality programs in the performing arts for the general public, including performing opportunities for students and professional artists, and to preserve and maintain restoration of the Music Hall, a building listed on the National Register for Historic Places.
Celebrating thirty years, Crafts at Lyndhurst is among the best-known, best-attended outdoor craft festivals in the nation. The event takes place on September 12th, 13th and 14th and is set on the grounds of the grand and historic Lyndhurst, located at 635 South Broadway in Tarrytown, just one-half mile south of the Tappan Zee bridge on Route 9. Come discover a wide variety of unique designs and creative artistry with over 275 leading artists and crafts people as they exhibit, sell and talk about their work amidst the natural beauty of the Hudson Valley. Lyndhurst is just 20 miles north of Manhattan and is easily accessible by car or train. Proceeds from this Artrider event benefits the National Trust for Historic Preservation. The show includes one-of-a-kind and limited edition jewelry, fashion and accessories, furniture and home decor pieces, as well as functional and sculptural work in ceramics, glass, metal painting, photography, wood and mixed media. Despite its name, the show offers more than just crafts. Visitors can also eat in an expanded food court, purchase specialty foods and participate in children's activities throughout the weekend. Crafts at Lyndhurst opens from 10am-5pm (10am-6pm on Saturday) rain or shine. An all-weekend pass is $12, passes for seniors 62 and over are $11. For children aged 6-16 admission is $4 and children under age 6 are free. Cash and checks only accepted for admission. Onsite parking or offsite with shuttle bus is free.
Stone Barns Center for Food and Agriculture is celebrating their 11th Anniversary with a Harvest Festival and Fundraiser on Sunday October 5th. Join in this community celebration of the farm at its most productive. Festivities for the whole family include live music, hands-on farming activities, food crafting, a farmer's market with delicious seasonal fare, hayrides, farm Olympics and more.
The festival will be held Sunday, October 5th, 2014, from 10:00 am – 3:00 pm, rain or shine. Individual Tickets are $40 for adults and $20 for youths aged 2-14.
Just around the corner, fall also brings apple season! Open September 13th through November 27th, Thompson's Cider Mill is located at 335 Blinn Road, in Croton-on-Hudson. The property is next to the Teatown Lake Reservation Nature Preserve and has been an apple orchard since the 1870s, a part of the old Rickert Fruit Farm. Thompson's offers a wide range of apples, including many heirloom and unusual varieties. As many varieties as possible are blended to create a true, old-fashioned pure cider. Several varieties of pears, as well as apple and pumpkin pies, and apple wine can be found at the cider mill. The Thompsons welcome visitors to the cider mill and orchard for 10 weekends each autumn, from late September through Thanksgiving weekend. Hours are 10am to 5:30pm. Cider is generally made fresh Saturday mornings at 10 am for those who wish to watch. For your information, there is no apple picking due to parking restraints and credit cards aren't accepted; cash or checks only. When open in September there are about 8 or 10 varieties of apples for sale. By early November there are typically 25 varieties available.
This fabulous time of year has so much to offer all around us, much more than is noted here. Take advantage of our rich history and bountiful activities that are sure to create wonderful memories for your whole family.