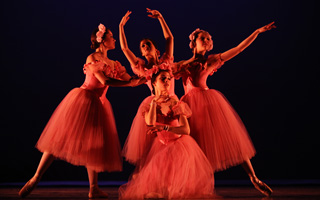 Seated comfortably in the lobby of their Ossining studio, Beth Fritz Logrea, Jean Logrea and their son, Nicholas, are casually dressed and exhibit the presence and posture that characterize dancers. We have come to speak with them about the Logrea Dance Academy which was founded in 1986. The Academy has been the springboard for many students, not only into careers in dance, but equally as important into meeting the responsibilities of life, through honesty, dedication, discipline and the joy of learning.
Beth Fritz was born in Memphis, Tennessee and at the age of fourteen she won a scholarship to the Metropolitan Opera and moved to New Jersey to attend a professional children's school and study ballet with Vincenzo Celli. At age sixteen she joined the Metropolitan Opera Ballet and also danced with a Connecticut- based company called Ballet Etudes. Deciding that she wanted to expand her dance career Fritz moved to Europe and performed in St. Gallen, Switzerland and at the Opera House in Graz, Austria where she met Jean Logrea.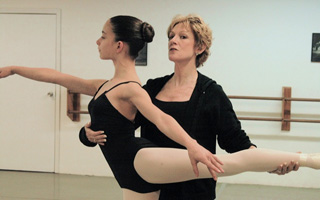 When asked what the philosophy of the Logrea Dance Academy was she said, "We are not only educating dancers we are educating an audience. The discipline of ballet is beyond being a dancer. It affects a student's school work positively, it affects their character out in the world where they are confident and not afraid to assert themselves or stand up in front of people with composure. At Logrea Dance Academy we are educating on many levels besides dance."
The Academy recently celebrated its 25th anniversary, and one of the hallmarks of its success is the family feeling that permeates its classes and performances. Many of its graduates return to visit with faculty and share their lives in dance and outside of the dance world as well.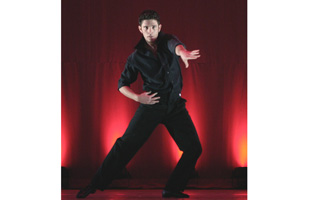 Nicholas Logrea is twenty-five years old and a cum laude graduate of Sacred Heart University where he majored in Sports Management. "I was introduced to dance classes at the age of six by my parents and took full classes up until 8th grade when my parents told me I had to make a decision. I had to choose between dance and soccer. I chose soccer," he said. Logrea decided to choose the game more as a career rather than an after-school activity. However, in High School he still danced the perennial Christmastime ballet, The Nutcracker, with the Westchester Ballet Company where his parents were and still are the artistic directors. A serious injury in a high school soccer game signaled the beginning of the end to playing the sport on a highly competitive level and after one year of playing in college Logrea decided that he had another decision to make. That decision led him away from the game of soccer and to a return to dance which he had never really left. "Dance is what I do now. This is my life. I am currently a Zumba instructor which is a fusion between Latin dance and fitness. I started teaching it two years ago and now I teach here and all over Westchester County," he said. In addition the younger Logrea teaches jazz and tap classes. He is the Director of Logrea Fitness and is also the Associate Director of the Dance Academy. Like his parent he enjoys seeing students grow not only as dancers but as people as well. "Our Academy has become another home for our dancers and they make lifetime friends here," he noted.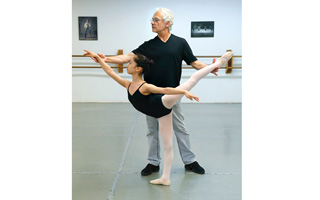 Jean Logrea was born in Romania and trained at the Scoala Speciala in Cluj in classical ballet, character and folk dance. He went on to become a principal dancer with the Graz Opera House ballet company in Austria, where he taught at their affiliated school as well. He has toured extensively throughout Europe and Russia, and along with Beth Fritz Logrea, he is the Co-Director of the Academy and the Co-Artistic Director of the Westchester Ballet Company.
He is a thoughtful man and one who does not mince his words. In speaking about his life's work and the Dance Academy he pointed out that, "Ours is not a professional dance school. We don't select who can come to our program, and yet we try very hard to train our students the professional way. It would be very, very easy for us to only teach dance, but we want to teach more than that. We teach the importance of discipline through attendance, attention during classes, and an appropriate dress code in our studios. You see, children learn from adults, the good and the bad, and sometime they can't tell the difference between the two. Most children think everything is good," he said. Logrea knows that there is really no freedom in being undisciplined. "Back in Romania I had a few teachers who were strict with us in what they wanted us to be and do in the studio. I realized years later how wonderful those people had been in preparing me for dance and for life. I think about that often," he said. Jean Logrea is a definite
amalgam of values and caring, and the Logrea Dance Academy has prospered with his and others' contributions to the dancers and communities they serve.  ©
For further information about the Logrea Dance Academy call 914-941-2939 or visit them online at www.LogreaDance.com.