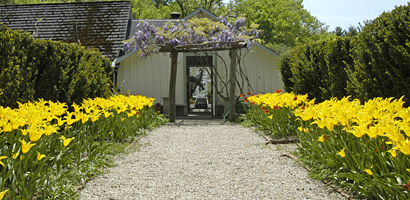 Several eminent Hudson Valley philanthropists have pledged $675,000 over five years to Historic Hudson Valley to enhance public programming and access to Montgomery Place, the Tarrytown-based, non-profit organization's historic architectural landmark in Annandale-on-Hudson. The gifts will enable HHV to open the property (designed by Alexander Jackson Davis with a landscape influenced by Andrew Jackson Downing) more broadly to visitors.
This circa 1802 home of Janet Livingston Montgomery, a rare intact example of Hudson Valley estate life, has had a reduced operating schedule in recent years.
Michael Hegarty, chairman of HHV's board of trustees, said the commitments will support programming for a period of five years (2010 through 2014) and are the foundation for launching a campaign to raise volunteerism and visitation, as well as additional financial support.
With the commitment of these major gifts, HHV plans to greatly increase public access to Montgomery Place. Effective immediately, the grounds will be open to everyone (except pets), free of charge, daily from 9 a.m. to 4 p.m. The main house on the estate will be open for tours ($10 per person) Thursdays through Sundays from May 15 to October 31, from 11 a.m. – 4 p.m.
"These financial commitments come after a very difficult year when the museum community faced exceptional financial challenges to steward and operate historic properties in the shadow of a remarkable national recession," said Mr. Hegarty. "While we can not yet thank our generous donors by name, as the process of formalizing their commitments is ongoing, we're very pleased to share the news of the expanded program offerings that their gifts will make possible this year."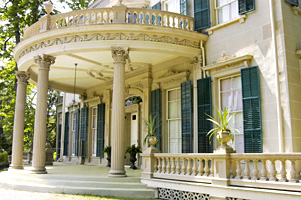 Waddell Stillman, president of HHV, said, "The work of maintaining and operating Montgomery Place to the standard which we apply to all our properties, and launching a full roster of programming at the property, seemed daunting. We are delighted that now, instead of having to continue to operate on a reduced schedule this year as we feared, these financial commitments will permit us to embark on an exciting program to increase programming at Montgomery Place and provide a more meaningful experience for visitors."
Over its 23 years of ownership, HHV has invested more than $24 million in the property on significant necessary improvements.
This year, HHV will pilot a new educational plan to enrich the experience for visitors by exploring the changing relationship between Americans, landscape and nature over time. It will also install a dozen new interpretive panels in the Montgomery Place landscape and, early in 2011, launch a new online program exploring topics arising from aspects of the site.
Historic Hudson Valley is a not-for-profit educational organization that owns, restores, preserves, interprets, and promotes historic landmarks of national significance within the Hudson Valley for the benefit and enjoyment of the public.  HHV operates an integrated network of six historic sites of national distinction: Kykuit, the Rockefeller Estate; Washington Irving's Sunnyside; Van Cortlandt Manor; Philipsburg Manor; The Union Church of Pocantico Hills; and Montgomery Place. For information, tickets, and events: www.hudsonvalley.org.