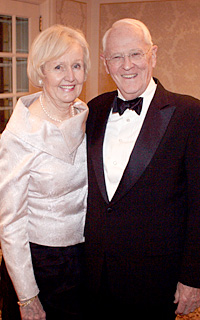 Historic Hudson Valley recently honored Elinor and Charles Urstadt with the 2010 John D. Rockefeller, Jr. Founder's Award. Mark Rockefeller, chairman of the executive committee of Historic Hudson Valley's Board of Trustees, presented the award at a gala dinner dance at the St. Regis in New York City.
The event, attended by 200 guests, raised more than $400,000 for the nonprofit Historic Hudson Valley, an education and preservation organization which for 60 years has celebrated the region's history, architecture, landscape, and culture.
John D. Rockefeller, Jr. was the founder of Historic Hudson Valley, and the Urstadts' wide-ranging civic contributions embody both the principles and spirit of Rockefeller philanthropy.
Mrs. Urstadt, known as Ellie, has lent her talents close to home in Westchester County, especially in Bronxville, where she and Charlie raised their two children. Her record of community involvement includes serving as president of the Junior League, vice president of the Bronxville Board of Education, chair of the Board of Governors of Lawrence Hospital, Village Planning Board member, and board member of the Bronxville School Foundation and the Reformed Church of Bronxville.
Mr. Urstadt's distinguished public service career has stretched across New York and included leadership roles with scores of government agencies, commissions, and nonprofits. As an active trustee of Historic Hudson Valley, he has helped lead the organization's growth and development since 1998.
He was appointed Commissioner of Housing and Urban Development by Gov. Nelson A. Rockefeller in 1967 and as First Chairman and CEO of Battery Park City Authority in 1968.
Mr. Urstadt is chairman and CEO of Urstadt Biddle Properties, a 40-year-old publicly traded real estate investment trust that owns and manages more than 50 shopping centers and other properties in the tri-state area, several near Historic Hudson Valley's sites.
Ten years ago, he took up competitive swimming again after retiring from it in 1957. He has won a dozen National and World Masters Championships and set five national records for the breaststroke, starting in the 70 to 74 age group. He presently holds the World Championship Record for the 50-meter breaststroke for his age group.
Through the Urstadt Conservation Foundation, the couple generously supports a variety of charitable causes in education, social service, and public policy.
A private, nonprofit organization, Historic Hudson Valley welcomes more than 200,000 visitors annually at six National Historic Landmarks: Philipsburg Manor in Sleepy Hollow, NY; Washington Irving's Sunnyside in Tarrytown, NY; Van Cortlandt Manor in Croton-on-Hudson, NY; The Union Church of Pocantico Hills in Pocantico Hills, NY; Montgomery Place in Annandale-on-Hudson, NY; and Kykuit, the Rockefeller estate, in Pocantico Hills, NY.  As part of its mission, Historic Hudson Valley offers dynamic educational programs, bringing the past to life for visitors of all ages, including some 30,000 schoolchildren annually.
www.hudsonvalley.org