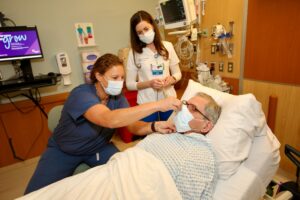 Northern Westchester Hospital (NWH), part of Northwell Health, has been named one of the best hospitals in the nation by the Women's Choice Award®, a leading referral source for the best in healthcare. The award signifies that NWH is one of the top healthcare providers in the country based on a review of almost 5,000 hospitals. This is the only designation that takes into consideration the preferences of women when selecting a hospital. NWH was recognized in the following areas: bariatric surgery, obstetrics, cancer care, comprehensive breast care, mammogram imaging, minimally invasive surgery, outpatient experience and women's services.
"On behalf of our entire staff, it's an honor to be named a top healthcare provider in all of these clinical areas," said Derek Anderson, executive director at Northern Westchester Hospital. "It's especially rewarding since the award is based upon patient satisfaction in our community and recognizes the excellent care provided by every single member of our staff. From our award-winning culinary service to the administrative staff, nurses and doctors – they are all dedicated to delivering expert, compassionate care to every person who walks into our hospital."
NWH is also ranked in U.S. News & World Report's Best Regional Hospitals 2022-23. It rated high performing in 12 categories including: heart failure, neurology & neurosurgery, stroke, uterine cancer, lung cancer surgery, pulmonology & lung surgery, pneumonia, COPD, orthopedics, hip fracture, kidney failure and geriatrics.
Phelps Hospital, another Westchester-based Northwell Health hospital, also received the Women's Choice Award for Best Hospitals for outpatient experience.
For more information on the America's Best Hospitals, visit womenschoiceaward.com/best-hospitals. To learn more about all the services available at Northern Westchester Hospital visit nwh.northwell.edu/ or call, (914) 666-1200. To learn more about Phelps Hospital visit phelps.northwell.edu/ or call, (914) 366-3000.