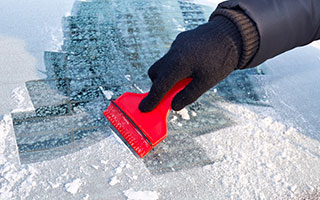 With dangerously cold temperatures forecast until Wednesday morning, the Westchester County Department of Health reminds residents to take precautions against hypothermia and frostbite and to take care when heating their homes using alternate heating sources.
"If you have an elderly or ailing neighbor who lives alone, please check on them when the weather is so cold," said Westchester County Executive Robert P. Astorino. "With the weather so cold, people should be very cautious when traveling outdoors. Wear lots of layers, do not leave skin exposed and limit your time outside."
If a safe temperature cannot be maintained inside your home, call a heating contractor to perform any repairs and maintenance you need or otherwise make temporary arrangements to stay elsewhere. Libraries, municipal buildings and malls are good places to warm up and the Department of Social Services can provide emergency shelter around the clock at 995-2099.
"Low temperatures can be life-threatening, especially for seniors, infants and people who are at increased risk for hypothermia," said Health Commissioner Dr. Sherlita Amler. "I urge residents, especially those households with seniors or infants to keep their thermostats set at no less than 68 degrees during the daytime to avoid accidental hypothermia."
Seniors and infants less than one year of age should never sleep in a cold room and should be dressed warmly to maintain body heat.
Warning signs of hypothermia in adults include stumbling, mumbling, fumbling and grumbling, shivering, slurred speech and confusion. Infants with hypothermia may appear sluggish, with very low energy and bright red, cold skin. If you think that someone is suffering from hypothermia or frostbite, call a medical provider immediately. Frostbite is another cold weather concern and is especially dangerous because it often happens with little warning. Numbness can occur so quickly that the individual, unaware of being frostbitten, may remain outside, increasing the chance of permanent damage. Older people, and those with diabetes, are especially vulnerable to frostbite due to impaired circulation.
Tips to prevent frostbite and hypothermia:
Start with synthetic or silk thermal underwear to wick moisture away.
Add fleece or wool sweaters or sweatshirts to trap heat and keep cold out.
Top it off with a waterproof or water-repellent jacket and pants.
Add gloves, scarf, a hat that covers the ears and sturdy shoes or boots with good traction.
Go indoors when you begin to feel cold.
Heating your home with a generator, space heater or stove can pose risks. Never use a generator inside your house or in partly enclosed areas such as garages, basements, porches, crawlspaces, sheds, carports or breezeways, even if your windows are open. Generators should only be operated outdoors, away from open windows. Using a generator indoors can kill you in minutes. Carbon monoxide in the generator's fumes can build up and cause carbon monoxide poisoning, which can be fatal. Also remember that barbeque grills and camp stoves produce carbon monoxide and should only be used outdoors. Ovens also produce carbon monoxide and should never be used to heat your home.
Use fireplaces, wood stoves, or other combustion heaters only if they are properly vented to the outside and do not leak flue gas into the indoor air space.
Always follow the manufacturer's instructions when using space heaters and wood burning stoves. If you find your heating systems to be faulty, call a heating maintenance and repair service.
Ensure adequate ventilation if you must use a kerosene heater.
Use only the type of fuel your heater is designed to use – don't substitute.
Do not place a space heater within three feet of anything that may catch on fire, such as drapes, furniture, or bedding, and never cover your space heater.
Never place a space heater on top of furniture or near water.
Never leave children or pets unattended near a space heater, fireplace or wood burning stove.