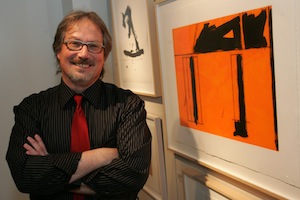 The Board of Directors of The Hudson Valley Writers' Center has announced the resignation of Executive Director, Frank Juliano.  Juliano leaves the HVWC to serve as the Executive Director of the Reeves-Reed Arboretum in Summit, NJ.
According to HVWC board chair, John Allendorf, "Frank has served admirably as our ED over the last two years and leaves our center a better place than he found it."  Allendorf continues, "His organizational skills have placed us on firm financial footing and he has developed several exciting new programs and affiliations that we hope to continue to develop in the future. We wish him well in his new position."
"Many hands go into the success of the Writers' Center," states Juliano.  "I especially want to thank our visionary founder, Margo Stever, the past and current board chairs, the dedicated trustees and patrons, the many instructors and students, my colleagues at ArtsWestchester, and particularly the wonderful staff and volunteers – headed by Ryan Conatti and Nicole Testa.  This is an amazing team and I will miss them all terribly."
Juliano will remain on staff throughout the month of April, and on call as needed by the Writers' Center. The Board of Directors has assembled a search committee to identify a new Executive Director.
For more information about The Hudson Valley Writers' Center, and for an updated schedule of readings, workshops and events, visit our website, www.writerscenter.org, or call 914-332-5953. The HVWC is located at the restored historic Philipse Manor railroad station, 300 Riverside Drive, Sleepy Hollow, NY, 10591.