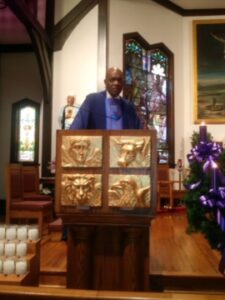 The rectory of the Church of the Magdalene in Pocantico Hills, one village neighbor recently commented, used to be dark, but now all the lights are blazing. And the new pastor, the Rev. Timothy Wiggins, isn't at all surprised. 
Father Tim, as he's happy to be called, is a busy man, fully occupied with the pastoral role he took on in July 2022, growing his parish, which celebrated its 125th anniversary in 2019. "It's a hidden gem," he commented, "a really good parish with a strong multi-generational base and increasing numbers." 
Father Tim's appointment comes at a critical time in the Catholic Church. Demographic shifts and a vocation crisis have led to a shortage of priests, which in turn has necessitated the merging of some parishes, leaving pastors with outsize workloads and little help in the way of associates. 
The Church of the Magdalene is at risk of merging, but Father Tim's arrival has signaled a turnaround. An additional 30 families have joined the parish since his arrival, the pews at service are at their fullest since Covid, and 10 new youth members have been added as altar servers. This youth community is also busy with outreach, including a Thanksgiving food drive and Christmas toy collection. It's been an impressive and encouraging first six months.  
For the pastor, it's also been a welcome return to Westchester where he has deep, abiding roots. Born in Valhalla, he was raised in Port Chester – and plans to be buried in Rye Brook, he revealed with a smile.  
Most African Americans follow either the Baptist or Methodist churches and Father Tim was very involved in the Methodist church from an early age. His grandmother hoped he would become a pastor. But the boy was intrigued by the nearby Catholic Our Lady of Mercy and in December 1976, at age 12, he attended his first Mass. "I felt like I was in heaven. The liturgy, the theology – it's all very systematic. And I loved the rituals and the tradition, which served as my spiritual anchors."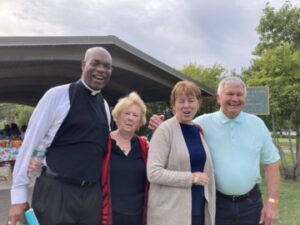 He quickly became an active member of the church, an involvement that continued while he received a degree at Denver University's School of Hotel and Restaurant, before returning to Port Chester while working for Marriott in the tristate area. Reconnecting with Our Lady of Mercy via a part-time job as parish cook, he eventually found his vocation and was invited into the seminary system in 1995. The priest and the parishioners, "They saw something in me. That invitation was a validation, and a conviction, and encouraged me to pursue my theological training." 
Yet he put his vocation aside for five years, to care for his elderly grandmother, after which he immersed himself fully, preparing for the priesthood. Upon his ordination in 2002, Father Tim had many pastoral assignments including at St. John the Evangelist in White Plains where he spent "ten glorious years." Then came the opportunity to be administrator in his home parish, at Our Lady of Mercy, where he enjoyed two years of significant progress, after which the church's "making all things new" program intervened, realigning the parish to merge it with three others, leaving Father Tim without an assignment and his parishioners confounded. 
Eventually, he received an assignment teaching and assisting at other parishes, and eventually a pastorship at St. Charles in Harlem, the priest always guided by his founding commitment "to the people whom I come to serve and lead to Christ. That's why I'm a priest to this day." That belief, and obedience, supported him in difficult times, but the innercity ministry was a challenge.  
At Pocantico Hills, he can reconnect with his Westchester communities, with which he had never lost touch. Worshippers at Magdalene come from 12 different ZIP codes, proof of Father Tim's undying relationships. "And the people here are wonderful and very collaborative." They appreciate that he is a "younger" priest, a sign of investment versus rumors of possible merger.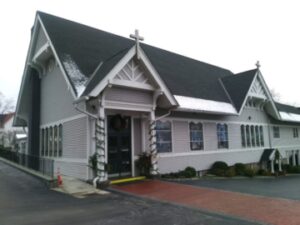 A systematic man, tall, energetic, approachable, engaged and engaging, Father Tim has perhaps found his safe harbor in Pocantico, after too many perplexing moves. Now he needs time to expand his parish, to defend it against dissolution. His commitment to the people in the pews is obvious and unwavering. Those rectory lights are unlikely to dim while he's in residence.