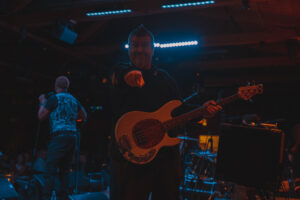 City Winery Hudson Valley has announced their lineup of fall events, promising a season filled with unforgettable entertainment and experiences for music enthusiasts, comedy lovers and more. The property, nestled amid picturesque landscapes, promises guests award winning wines, delectable dishes and live concerts for an unforgettable autumn getaway.
Indoor Concerts in the Falls Room
Step into the Falls Room at City Winery for a unique experience. Enjoy intimate concerts featuring talented artists while indulging in creative cuisine and exceptional wines.a
Shake Rattle & Roll Pianos: Rock 'n Roll Party – September 14th @8pm
Get ready to rock and roll on with Shake Rattle & Roll Pianos, New York City's longest-running and BEST all-request party. This high-energy event will have you dancing all night long.
Strawberry Fields: Ultimate Beatles Brunch – October 29th @12pm
Don't miss Strawberry Fields' Ultimate Beatles Brunch live on Sunday, October 29th at 12 PM. This will be Strawberry Fields' last Hudson Valley Brunch in 2023. Immerse yourself in the timeless music of The Beatles while savoring a delectable brunch.
An Evening with Cowboy Junkies – November 7th @8pm
Enjoy an enchanting evening with Cowboy Junkies live in concert. Experience mesmerizing melodies and soulful tunes from this iconic band.
DakhaBrakha: A Journey Through World Music – November 10th @8pm 
Embark on a journey through world music with DakhaBrakha, a music quartet from Kyiv, Ukraine. Witness their unique fusion of sound and soul.
The English Beat – November 14th @8pm
Don't miss an unforgettable evening with this legendary band as they bring their infectious energy to our intimate stage.
RHETT MILLER of Old 97's: An Intimate Performance – November 19th @8pm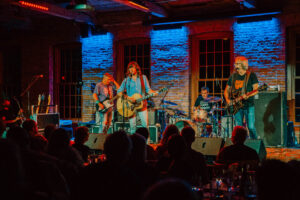 Join RHETT MILLER for an intimate concert as he performs perhaps his most unflinchingly personal collection of songs to date. It's an evening of music that you won't want to miss.
Laughs along the Wallkill – Comedy – September 14, October 26, November 16 @7:30
Laughs along the Wallkill will feature a headliner and one or two upcoming comics. The Boiler Room, nestled in the cellar of City Winery Hudson Valley, provides the perfect backdrop for a night of laughter and fun.
The Songwriter's Lounge – September 27th @7pm
Annalyse & Ryan Present: The Songwriters Lounge. Experience an enchanting night filled with soul-stirring melodies and deeply poignant lyrics. Get ready to be captivated by Marc Von Em's unique blend of blues-infused rock, folk, and funk that promises to deliver an unforgettable entertainment experience.
Open Mic Nights – September 28, October 25, November 15, December 13
Open Mic Night at City Winery's historic Boiler Room. Listen, laugh, and sway to the voices of budding performers as they take the mic to entertain with spoken word, music, and comedy in an intimate setting.
For a full list of all our fall events and to purchase tickets, please visit our website