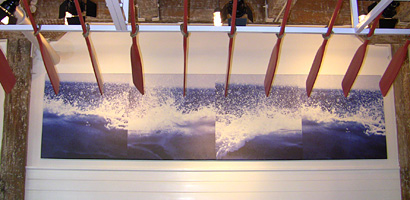 Sitting opposite Gus Panopoulos, one of the four partners of Irvington's Day Boat Café at One Bridge Street in Irvington, one is taken by his sheer exuberance about the restaurant business and the newly opened Day Boat Café. He and his partners, John Durkin, Vas Mylonas and Russ Panopoulos, have created a restaurant that invites diners of all ages and types who are looking for a New England type seafood menu and something more in the form of steak, burgers and chicken dishes prepared with flair.
"I am very excited to be in Irvington and I want our restaurant to be a regular stop for our patrons. We have created a restaurant that appeals to couples looking for a romantic dinner, families with their children and groups seeking a comfortable place with great fresh seafood and reasonable prices," he said. The Day Boat Café will serve lunch and dinner and on the menu will be fresh Montauk striped bass, local scallops, a raw bar which will include 3 varieties of west coast oysters and 3 types of east coast oysters, fish tacos, 7 craft beers from Fire Island, Southampton, and Pleasantville, along with local produce in season. In addition, flank steak and fries along with fried chicken with creamed corn and mashed potatoes provide wonderful additions to the main menu. "Our burgers are served with applewood-smoked bacon and New York State cheddar cheese, so we can cater to everyone's taste," he added.
The Day Boat Café is open seven days a week for dinner. Dinner is from 5-9:30 pm Monday through Wednesday, 5-10 pm on Thursday, 5-10:30 pm on Friday and Saturday, and Day Boat Café serves from 1-8 pm on Sundays. The restaurant is open for lunch Monday through Friday from noon to 3 pm. For more information call 914-231-7854 or visit dayboatcafe.com.