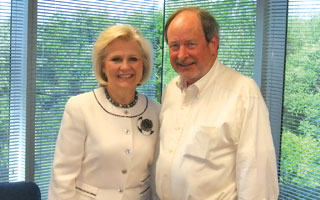 Our local Con Edison Co. is made up of some 14,000 employees in all five boroughs with 1400 of that number working in Westchester.  In a meeting on June 1, in Sandy Miller's Westchester office, it became clear that two things need be said about all of these employees.  First, each of them lives next door to us and most work every day in each of our neighborhoods. Second, they have the interest of their communities front and center each and every day.
Meeting with River Journal were Sandy Miller, Westchester Director of Public Affairs, and Chris Olert, Assistant Director of Media Relations for the entire company.  The question asked of these two public relations experts were: what the public was thinking about when considering their electrical supply availability and conversely, how Con Edison deals with that same public.
Olert and Miller immediately cited tree pruning as the number one point of contention between a public that very often sees a favorite branch or tree being taken down by Con Ed.  Often, the criticism emanates from environmentally-oriented groups or persons; people that rightfully want to protect our views and environment.  Equally often, Con Ed is criticized for not providing timely notification for tree-pruning.
Second in the line of fire, according to both executives, is repair and construction.  A similar environmental argument is raised by the public here again.  Most often heard from critics is: "Simply put all the lines for gas and electricity underground and all our problems will be solved." This usually comes under the increasingly convenient heading of "let the government pay for it, they've got plenty of money."
Third, and right behind repair, are poles.  They are not very good looking  and they fall down when hit by a car, or when the snow gets too heavy in the winter.
Each of these criticisms appears to have some semblance of merit when being reported on local TV or in the papers, but most often, Olert and Miller have to politely set the record straight.  Pruning has its own complaint phone number, 1-800-75- ConEd. Their E-mail address is ConEd.com.  If need be, representatives from the company will come out to a pruning site immediately.  And finally, all of our villages have been apprised of  trimming plans well in advance.  ConEd even has an arborist on its staff to help in public trimming decisions.  Olert and Miller, in the final analysis, must use all their skills to make sure the public understands that safety and continuity of energy supply are the primary reasons for aggressive tree trimming.
Putting everything underground would indeed settle many issues.  No wires, no poles. Just a clear view.  Except for the cost of doing it.  ConEd estimates that sinking everything from view would cost $1,000,000 per mile!  Further, to locate a problem that could be easily seen from the sidewalk would take all kinds of new and expensive equipment.  Finally, poles are not the exclusive property of Con Edison;  various phone companies and television properties use those same poles as well.
Along the same lines, ConEd got out of the business of generating energy by selling off all its production capacity several years ago.  The theory was that competing independent companies would lower pricing. They are still waiting for that to happen.  Few of the remaining companies chose to put up the investment required to fully operate such a facility.
This brings up the complex question of Indian Point, since that facility was originally put up years ago by Con Edison itself.  The original concept of locating any electrical production facility was to shorten the length of distribution, cutting costs substantially.  Replacing what is estimated to be 25% of New York's and Westchester's electrical supply would be tremendously expensive and would ultimately be passed along to consumers.
All of this assumes a public not bothered by a "not in my backyard"  attitude.
What ConEd is aiming for is to avoid a repeat of August 2003, when the entire area suffered a blackout that went on for hours.  To that point, ConEd works tirelessly to lessen the burden on its system, particularly in the hot summer months, when overloads are most likely to take place.   Olert and Miller said that much of their overload activity is directed to their communities by getting the customer to become involved
in what they call "The Green Business Challenge." This is basically a way of lessening demands on various energy infrastructures being built by local businesses.  Restaurants, for example, are vulnerable to all kinds of electrical loads, particularly refrigeration.
Another major area of staying in touch with local neighborhoods is through their sports awards programs.  Athletes in various local schools receive ConEd college scholarships, and each year, the award ceremony brings together teachers, students, and parents. This year's ceremony was held at the Rye Town Hilton and involved 250 celebrants.
Sandy Miller is also in close touch with Larry Gottleib, Westchester County's Economic Development Director.  Gottleib is well aware of the company's various programs that are available to those new businesses that are considering the local area for a storefront or new factory.
In the final analysis, both executives agree that an increasing number of  corporations are being touched by a new public perception that "government could and should pay" for major projects like putting electrical systems underground. Today's consumer often forgets that a private corporation cannot print money. It is most often the area's corporate public relations departments that have to carefully point that out.