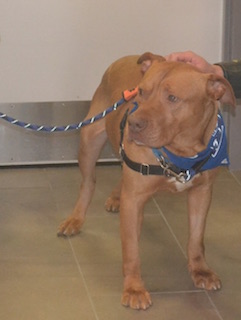 Every year approximately 6.5 million companion animals arrive at community shelters across the nation – stray animals, surrendered animals, and animals rescued from cruelty. (ASPCA, 2017) Last year, an older dog, a large Pit Bull mix, was abandoned at the Briarcliff SPCA with a broken knee cap — three strikes hard to overcome for any shelter dog: old age, severe injury, and being a member of the oft maligned and misunderstood Pit Bull group of dogs. This gentle giant weighed in at 85 pounds, and his size, calm demeanor, and loving personality quickly earned him the name of Clifford, after childhood favorite Clifford the Big Red Dog.
Supporting our members and community is an important thread in the social fabric of Club Fit – a thread that leads right next door to the SPCA of Westchester. In addition to Cat and Dog of the Month spotlights on the Club Fit Community Board, every month, the SPCA of Westchester hosts a table in the Club Fit lobby. The SPCA staff brings specially selected dogs sporting "Adopt Me" bandanas to raise awareness about the importance and benefits of pet adoption, its four-legged residents, and other programs. "We are so grateful to have such generous neighbors help us spread awareness about the importance and benefits of adoption," says Lisa Bonanno-Spence, Director of Events and Communications at SPCA of Westchester. "I also hope it has been fun for the members to get a surprise greeting when they walk in and see a cute dog!"
This past April, 8-year old Clifford earned his "Adopt Me" bandana as one of the dogs to greet members at the SPCA table at Club Fit Briarcliff. As fate would have it, two Club Fit staff members and sisters, Cassie & Alexis Burke, connected immediately with Clifford and instantly texted their mom, Dawn Burke, to say they found her the perfect dog. Dawn recalls the rapid-fire texts inundating her phone: "Mom, they brought this dog into work, and you have to come see him – his name is Clifford." Then, "Mom, you have to take him, he is your dog. He is so lazy, he's calm, he's…" Next came a picture of Clifford, gentle as could be, with a young Club Fit member. Dawn and her 18-year old son, Michael, agreed that it was time to get another dog.
With a recent move to a more secluded area, coupled with her kids' ringing endorsement of Clifford, it seemed as though fate was dictating that the time was now, indeed, for another dog. Dawn visited the shelter on her day off to meet Clifford and was taken aback by Clifford's strong 85-pound Pit Bull frame. However, she quickly saw his easy-going and loving demeanor shining through. "When I first saw Clifford at the shelter, "I was like, no way," remembered Dawn. "But he came over and just wanted to lick everybody and play. He was a good boy."
In just two months, Clifford has become an integral part of the Burke family, and Dawn can't imagine being without her loving – not to mention fun-loving – four-legged friend. "He loves to ride in the car – if a dog could puff his chest out and smile, Clifford would," says Dawn. "He just wants love. He's such a mush and just wants to sit next to you, lay around, watch TV – he doesn't care what you're doing as long as he's with you."
Dawn feels Club Fit is offering the dogs a great opportunity and is raising awareness for pet adoption and the SPCA of Westchester. "Club Fit gives the SPCA the opportunity to bring these dogs over and show that they are good dogs that need loving homes," she says. "Plus, I would have never found Clifford if they had not brought him to Club Fit."
Clifford the Big Brown Dog — the loving, gentle, old dog with three strikes — finally hit a homerun with his new family, thanks to fate, the Burke family, and Club Fit's partnership with the SPCA of Westchester. But if you ask Dawn, she'll readily say, "But we're the lucky ones. We are lucky we found such a great dog."