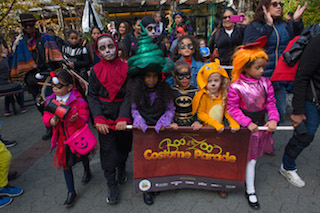 The annual Halloween celebration will kick off Saturday, September 30 and run weekends and holidays through Sunday, October 29. A few highlights include: a Haunted Forest, Hayride, Corn Maze, Pumpkin Carving, Candy Trail, and Bootoberfest. Scheduled activities embrace the spirit of the season while incorporating wildlife. Guests will have an opportunity to meet animals often associated with Halloween folklore including, vultures, owls, and ravens.
This year's walk-through experience takes an eerie turn through a Haunted Forest. The spooky sounds, creepy crawlies, bats,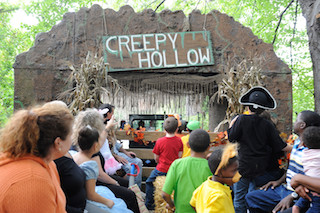 spiders will keep guests on their toes as no one knows what (or who) may be lurking around the corner.
The historic Astor Court will be transformed into Bootoberfest with live acoustic musical performances. Grab a bite and a beer from the Bronx Zoo food truck and play some games on the lawn.
Bronx Zoo Animal Keepers will be on hand throughout the park to chat with Halloween revelers about the animals at the zoo while providing holiday-themed enrichment treats to some of the park's residents.
Other Halloween experiences include: a mentalist who will read your mind; puppet shows, and crafts.
Visit www.BronxZoo.com/Boo for a complete schedule of dates, performances and activities.
Taking place weekends and Columbus Day
Sept 30 (Saturday) – Oct 29 (Sunday)
Boo at the Zoo activities: (Schedule subject to change.)
Haunted Forest
A haunted walk-through experience with spooky surprises around every corne.r
Ages 12 and up.
Additional ticketed fee: $6 for ticket buyers/$4 for Premium/PLUS Membership holders
Location: By Somba Village
Time: 10am- 5pm
Halloween Hayride & Corn Maze
Hop on a hay wagon, and take a Halloween hayride around a hidden part of the zoo. Then make your way through an interactive corn maze.
All ages
Included with Total Experience and Premium/PLUS Memberships
Time: 10am- 5pm
Pumpkin Carving Demos
Professional pumpkin carvers will be demonstrating their skill and displaying intricate pumpkin carvings of wildlife and animals.
All ages
Location: Dancing Crane Plaza
Time: 11am-4pm
Speed carving demos: 11:30am and 2:30pm
Bootoberfest
Live music performances with games, food and beer
Location: Astor Court
Time: 12-4pm
Costume Parade
Hand-made puppets and props built by master costumers will be part of the fun as participants march through the zoo alongside an array of characters from the Alice Farley Dance Company.
All ages
Location: Starts at Zoo Center
Time: 12pm and 2pm.
Live Bird Meet & Greet
Visit with owls, ravens, vultures, and other birds
All ages
Location: Astor Court
Time: 11 AM- 3PM
Limited Dates: October 15, 22, 28 & 29 only
Mind Reading Shows
Ages 12 and up
Location: Grizzly Corner
Time: 12:30pm and 2pm
Magic Shows
Ages 12 and under
Location: Grizzly Corner
Time: 11:30am, 1:30pm, 3:30pm
The Very Hungry Caterpillar – Live Puppet Performances
All ages
Location: Asia Stage
Dates: Sundays Only
Time: 11:30am and 1:30pm
Candy Trail
All ages
Location: Rhino Pathway
Time: 10am to 5pm
Extinct Animal Graveyard
All ages
Location: Mouse House lawn
Time: 10am to 5pm
Halloween crafts
All ages
Location: Dancing Crane Pavilion
Time: 11am – 4pm
Hay Maze
Ages: Under 12
Location: Butterfly Patio
Time: 11am – 5pm
Photos by Julie Larsen Maher