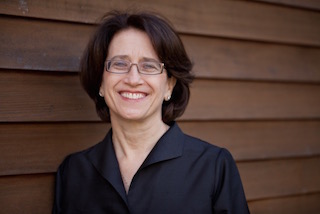 Axial Theatre of Pleasantville is rolling out the red carpet (figuratively speaking) for its Saturday, June 10 benefit at the Gallery of ArtsWestchester for the evening's shining star: Tony award-winning Broadway producer Jane Dubin. The annual benefit marks the first formal recognition of an affiliation first kindled in 2011 when Dubin, a Sleepy Hollow resident for 20+ years, and Axial founder, artistic director and playwright Howard Meyer, worked in close collaboration co-curating play competitions at the Hudson Valley Writers' Center in Sleepy Hollow. One of the works that emerged resulted in a highly successful run at Axial (The Clearing by Jake Jeppson).
Dubin notes that she has attended several Axial productions over the years, and roundly applauds the company for its courage and quality.
"Axial continues its commitment to presenting new work, even though it is tough to do so today," she says. She welcomes, too, having top-notch professional theatre "in our backyard," and the company's "creative and innovative use of the performance space that always appears differently" in configurations that morph from proscenium to in the round. She cheers Meyer for remaining "passionate" and for having assembled a talented team of actors, writers and directors on his "strong shoulders."
"I say 'YAY!' to Howard and to Axial," says Dubin.
Meyer is quick to reciprocate the praise and then some: "To work with someone of Jane's caliber, a person who possesses such commitment, knowledge, and sheer brilliance is incredible," he says. "I'm so glad to finally have the chance to formally express my, and Axial's, deep gratitude. To have Jane's endorsement is a true privilege."
The mutual esteem stems from a shared purpose and passion.
"I've always loved theatre, even as a child" says native New Yorker Dubin, a graduate of the University of Rochester with an MBA from NYU. She began her career as an actuary, then switched to investment counseling, until she decided she "didn't want to do that anymore." Following a stint working for nonprofits – "which I enjoyed immensely" – around 2004 she had the opportunity to produce a play written by a friend. She realized that she'd discovered a way to marry her creative instincts to her financial savvy. Dubin studied and graduated from the Commercial Theatre Institute's 14-week Intensive Seminar, gathered together a highly skilled group of financial and theatre folk, and in 2005 , she founded her own production company, Double Play Connections. The rest, as they say, is history.
In 2009, she won her first Tony for The Norman Conquests – a trio of plays by Alan Ayckbourn about "a guy who wanted to make everyone happy." The novel treatment, performed at Circle in the Square, offered a series of complicated marital and related situations the audience could identify with.
Ann, written and performed by Holland Taylor, brought back to life tough-as-nails Texas governor Ann Richards and resulted in a Tony nomination for its playwright and performer Holland Taylor. "It showed the power of what one woman could do," says Dubin.
Peter and the Starcatcher, a prequel to Peter Pan, is about "the power of imagination." The winner of 5 Tonys in 2012, Peter toured the country and is still one of the most produced plays nationwide. Other productions Dubin produced or co-produced include 4-time Tony winner, An American in Paris, now in London and on a US National Tour, and The Absolute Brightness of Leonard Pelkey, by James Lescesne, also on tour.
Currently on Broadway, Bandstand, choreographed and directed by Hamilton's choreographer, Andy Blankenbuehler, tells the story of a WWII vet with what is now known as PTSD (post-traumatic stress disorder) who journeys to the Big Apple seeking fame and fortune through his music.
"He's using the arts to heal," says Dubin. She notes that her father served in WWII and her cousin, whom she invited to opening night, is a recent vet, having served in Iraq.
Will the risks of producing, where Broadway costs hover around $3 to $5 million for plays, in the high teens and beyond for musicals, ever steer her away? "We all do things that are risky. That's not even an issue. The arts are like breathing. We HAVE to be there," she says.
A great fan of baseball, Dubin explains that part of theatre's appeal is the live interaction that comes from the synergy between the audience and the players.
"You have people coalescing around a concept – you're giving the audience an opportunity to see themselves on stage. Theatre is a live vehicle with the ability to transform. You want to have people walk out and think about something in a different way," she says.
Did she ever long to be on stage – as an actor or director? "Some people part the curtain, look backstage, and shudder. I looked behind the curtain and knew this was where I belonged," says Dubin.
Though there's never a safety net, she notes that she chooses people and projects VERY carefully, works only with those she trusts, undertakes only productions she believes in.
She acknowledges that the high cost of tickets is an issue, saying, "We have to be mindful or we'll be priced out of business." She hopes that low-cost options are some help – rush tickets, TKTS, various membership groups – and notes that Bandstand has initiated a relationship with Got Your Six and VetTix which subsidizes tickets for veterans.
The musical is up for two Tonys on June 11, the night after the Axial benefit.
How does it feel to wait for the results? "Terrible," she says, frankly. While "winning is much more fun," she acknowledges that just "getting to Broadway, the Major Leagues, the pinnacle of the industry, is amazing."
Whether a play or musical wins or loses "doesn't change the show. I'm proud of every show I've been involved with."
What's next? Dubin plans to co-produce, with Harriet Leve, Lily Tomlin and Tomlin's partner, Jane Wagner, Fingersmith –  translation: pickpocket – a play set in Victorian London, written by Alexa Junge (a writer for TV's Grace and Frankie and Friends, among others) to be directed by Bill Rauch of All the Way fame (Bryan Cranston as LBJ).
"There are numerous twists and turns," says Dubin. Though it's premature to set a date for the opening, Dubin is looking to the fall or the spring of 2018.
With such a highly reputed team on board the potential is great. No surprise there; Dubin always chooses VERY carefully.
"That's why I said 'yes' to Howard and to Axial," she says, with a smile.
The Axial Benefit on June 10 runs from 7 to 10 pm in the street-level exhibit gallery of ArtsWestchester, 31 Mamaroneck Avenue in White Plains. It will also present cabaret entertainment; gourmet dishes and libations from 12 Grapes Restaurant in Peekskill; a live auction featuring luxury getaways in the Italian Riviera, Provence, France, and a South African safari and a silent auction. General admission is $60, including food and open bar for wine and beer. Seating in Jane Dubin's VIP section is $100. See Axial Theatre's website at www.AxialTheatre.org or Axial Theatre's Facebook page or contact AxialTheatre@gmail.com.